Rough ride and life to freedom
Languishing in camps at Rameshwaram,Sri Lankan refugees yearn to return home
Thousands of Sri Lankan refugees who fled their homes due to the continuing violence that has gripped the north-east of the country since last year and settled in the small coastal town of Rameshwaram in the state of Tamil Nadu, India, are struggling for survival while many are still hopeful of getting back to their homes.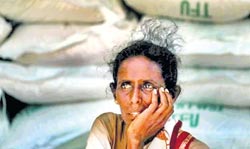 A Sri Lanka refugee sits in front of rice sacks at the Mandapam refugee camp, near Rameshwaram
Last year many of these displaced people had to pay Rs. 6,000 to 8,000 to mercenary boatmen for the two hour ride across the Palk Strait. The refugees who reached the Rameshwaram coast with sparse baggage - a few pieces of clothing and other essentials, but a heart full of dreams for a better life, are now facing tough times in over-crowded refugee camps. The irregular distribution of food, shortage of drinking water, lack of sanitation facilities and medicine, problem of women being forcibly taken in for prostitution and random arrests of refugees who are suspected of being terrorists, are some of their day-to day horrors.
The sudden influx of refugees, mainly from Mannar, Batticaloa, Trincomalee and Muttur since last year has reached nearly 140,000. They are housed in 120 refugee camps in Rameshwaram out of whom about 30,000 refugees are unaccounted for, The Sunday Times learns.
Although the Tamil Nadu government has promised to provide the refugees with essential food items and Rs. 15 a child and Rs. 25 an adult for a day, many families complain that they have not got the promised money on a regular basis. They also complain that they are not allowed to leave the heavily-guarded camps to find jobs.
"We left our homes in Trincomalee and came to India by boat hoping for a better life. But things seem to be much harder here and we are not even allowed to leave the camps in search of work. We don't get proper food or medicine either," Mani Krishna a farmer from Trincomalee said.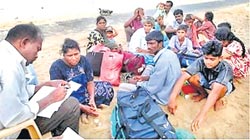 An Indian police officer registers Sri Lankan refugees who arrive by boat, near Rameshwaram
Another refugee Luxmi said, "Many women in my village in Kayts were locked up in a house and raped, I escaped with my children. But while we were in the camp here, some people came and took my eldest daughter away. I complained to the police but there has been no news," Luxmi who is a mother of two grown up daughters said.
When The Sunday Times visited a camp which housed about 2000 refugees under one shelter made up of scrap metal, wood and coconut leaves, the refugees had many a tale of woe to relate.
We learnt that last month alone 28 people had died of cholera and pneumonia while hundreds were suffering from various viral infections. Thirty two women had reportedly gone missing from the camp and in the past two weeks eight had been arrested from the same camp.
Shankar, a father of three teenage girls said, from the time he came to Rameswaram, life has been difficult for him since he has not been able to find a job too. However, life turned into a nightmare when an armed group from Rameshwaram had stormed the small shed which he calls home and had forcibly taken his three daughters away.
"I left my home in Batticaloa to escape the fighting and violence that has gripped my village. I came to India hoping for a better future for my children. Now they have been taken away," Shankar lamented.
Inspector Shanka Chopra from Rameshwaram told The Sunday Times that they have received several complaints from these refugees and the police were doing their best to crackdown on the spate of abductions of women.
"Some of these women are taken away by an organised crime group that is running a prostitution ring in Rameshwaram. We are doing our best to find the culprits but our main focus is to apprehend LTTE cadres who enter India in the guise of refugees," he said.
A health official overseeing the camps in Rameshwaram, confirmed that nearly 60 people had reportedly been infected by HIV/AIDS. She said four refugees from different camps had died from the disease.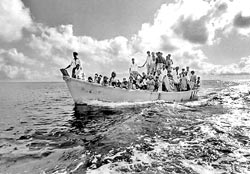 Crossing the seas to Tamil Nadu
When refugees land on the coast of Rameshwaram, Indian police officers interrogate them on the shore itself.
Then they are sent to a sprawling camp in Mandapam, the same place that served as a transit point for Tamil labourers sent to Sri Lankan tea estates during British rule.
Currently, the Mandapam camp houses over 6500 refugees in a fenced-off section of dilapidated one-storey cement apartment blocks with communal water taps and toilets. The refugees are kept here reportedly for observation for one-to-two weeks until they are relocated somewhere else in Tamil Nadu. However, many refugees are kept here for months with little being done and over crowding of the camp has become a severe problem.
The refugees in Rameshwaram say they are praying for peace and a long lasting solution to the conflict so that they could return to their homes and rebuild their disclocated lives.