He made a great impact on Sinhala music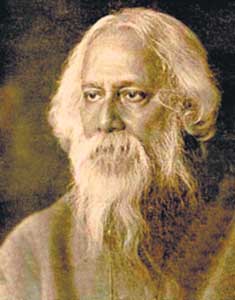 Rabindranath Tagore
The 66th death anniversary of a person who made a big impact on Sinhala music, falls on August 7. He was Rabindranath Tagore, founder of the 'Shantiniketan' in India. In 1934 he visited Sri Lanka with a group of artistes and performed a drama. He also laid the foundation stone for Sri Palee Vidyalaya at Horana (founded by Wilmot A. Perera, one time Member of Parliament), which later introduced music, art and dancing. His visit brought drastic changes into the Sri Lankan music scene. Pioneer musicians Ananda Samarakoon and Sunil Shantha, renowned dancer Chitrasena and a host of others had their grounding in Shatiniketan.
Born in Calcutta into a wealthy Brahmin family in 1861, Tagore after a brief stay in England (1878) to attempt to study law, returned to India, and instead pursued a career as a writer, playwright, songwriter, poet, philosopher and educator. In 1912, when he was 51, he returned to England accompanied by his son. On the way over to England he began translating, for the first time, his latest selections of poems, Gitanjali, into English. It was published in September 1912 in a limited edition by the India Society in London. Thereafter, both the poetry and the man were an instant sensation, first in London literary circles, and soon thereafter in the entire world.
Less than a year later, in 1913, Rabindranath Tagore received the Nobel Prize for literature. He was the first non-westerner to be so honoured. Overnight he was famous and began world lecture tours promoting inter-cultural harmony and understanding.
He wrote over one thousand poems; eight volumes of short stories; almost two dozen plays and play lets; eight novels; and many books and essays on philosophy, religion, education and social topics. Aside from words and drama, his other great love was music, Bengali style. He composed more than two thousand songs, both the music and lyrics. Two of them became the national anthems of India and Bangladesh.
In 1929 he even began painting. Many of his paintings can be found in museums today, especially in India, where he is considered the greatest literary figure of India of all times.
For the progress of rural women
Dr. Mary Rutnam
August 2, 1931 has been recorded as the day the 'Lanka Mahila Samiti' (LMS), the pioneering women's organization working for the progress of the rural women in Sri Lanka, was founded by Dr. Mary Rutnam. It operates through a network of voluntary and semi voluntary extension workers.
With the motto, "for all, at all times to help others," the LMS concentrates primarily on raising the health and educational standards of rural women, improving family life, helping to develop agriculture and handicrafts. They are taught on taking on responsibility and the art of leadership and are encouraged to take on thrift and cooperative activities and be good citizens.
The LMS is affiliated to the Associated Country Women of the World (ACWW) in the United Kingdom from its inception. It works through 350 rural women's societies in 16 districts of seven provinces of the country. It has 350 associate members and 25000 members of the rural branches.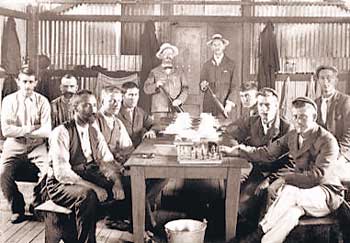 Boer prisoners in a camp
Diyatalawa garrison town came into prominence at the turn of 20th century. In 1901, the Boer prisoners of war were brought to the Island from the battlefields in South Africa, and Diyatalawa was used as one of the camps for them. At the end of the Boer episode and from 1903 onwards the Diyatalawa facility had been used by the members of Ceylon Volunteers for annual camps and field exercises.
The first batch of Boer prisoners arrived in Ceylon on August 9, 1900 and subsequently others followed until some 5,000 prisoners had landed. While Diyatalawa was the main camp,
Mt. Lavinia was the convalescent camp while, dissidents and irreconcilables were housed at Ragama. A camp for prisoners on parole was also opened at Urugasmanhandiya in September 1901. Hambantota was also a parole camp.
Some 30,000 Boer farmhouses were destroyed and the Boer women and children were removed to concentration camps.