"We answered all questions sought by shareholders" – RPC director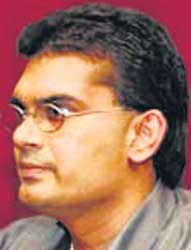 Pravir Samarasinghe
Amidst various allegations by many shareholders at Richard Pieris' AGM, the company says it is confident of turning around its non-performing businesses. Pravir Samarasinghe, Director/COO of the RPC Group responded to some hard questions posed to the company in a recent interview. Excerpts:
Richard Peiris' Group had a Rs.16 billion turnover in 2006/07 over the Rs.13 billion in 2005/06. However the profit after tax (PAT) dipped to Rs.514 million from Rs.581 million during the same period. What was the reason?
This is because some areas of the group performed badly. The export industry and the tyre industry together with a new area that we ventured into such as the media business have not done well. All other businesses have performed well. However we are very confident that next year all these businesses will perform strongly.
How are you arresting this situation?
The tyre business has already turned around and will make a profit this year. Also the exports businesses such as Richard Peiris Exports and Arpitallion Compact Soles have already turned around and will record healthy profits.
We are still having certain issues with the latex business which we are addressing currently, but most likely the company will turn around and we will financially restructure the company. A number of steps have been taken to reduce its cost and improve its margins. We are confident that as far as the operations are concerned next year should be a good year. We also had another issue because we had a high debt exposure in the company and now steps are being taken to strengthen the balance sheet and reduce our balance sheet.
What are these steps?
We are looking at several options to raise cash. We are looking at our portfolio and will be deciding on which business should be continued, which should be divested or restructured.
How did you manage to turn around the tyre business?
The rubber related businesses did badly during the last three years mainly due to rubber prices increasing by almost 300 percent and we have not been able to fully pass these on to the customers. So we focused a lot on managing costs. In the tyre business we closed our Polonnaruwa factory last year and thereby rationalised our operations. We have also gradually improved margins by increasing prices, there were four price increases up to now. We also introduced new lines of business such as importing Birla tyre, a leading tyre brand from India; we are also selling a new tyre called Sawiya and we sell Tread under a new brand name called ATM. These have contributed to increasing our turnover.

How did you turn around the export sector?
We made an operating loss of about Rs. 102 million. We closed down our marketing offices in USA and Europe and we handle both customer services and marketing directly from Sri Lanka. We shut down our second Latex plant in Seethawaka temporarily in October last year and consolidated all our Latex value addition business in Biyagama. We restructured the management and reduced 16 executives and 50 workers.
What about the business that have done well during 2005/06?
The retailing business consisting Arpico supercentres have done extremely well and we are allocating more resources to fast track the development of our supercentres. We intend going into Negombo, Wattala, Kandy and other parts in the Western Province. We are the only large format retailer in the country.
We plan to allocate Rs. 600 million for retailing business this year.
Also the plastic sector and the plantations have done well. We make seven percent of Sri Lanka's tea and seven percent pf rubber.
The world market for rubber is extremely strong and we believe that rubber will be very profitable for the next 10 years. The low grown tea market is strong and its high prices. We have a fair crop mix of premier high grown, mid grown and low grown, which gives us the ability to withstand the vagaries of commodity price changes.
We have started our own value added branded tea exports which is St. Clair's and its growing gradually. We will be exporting to Rumania, China, Russia and to Australia and Japan. We have 60 different products under St. Claire's at different price points.
You wanted to dispose of your palm oil business sometime ago. Where does this decision stand now?
Oil palm is doing very well. Yes we did evaluate this option of disposing palm earlier, but did not proceed with it. We are very bullish on palm. High global demand for palm oil and the free trade agreement with India makes palm oil an attractive industry. Palm is now seriously considered for bio fuel. We are expanding our palm cultivation and have already commissioned a palm oil processing plant and100 percent of output is exported to India.
What are the plans you have in store for the timber in your plantations?
We have a huge timber resource base. We are now working on timber as a core crop and we have implemented a five year forestry management plan to replant and harvest timber.
What is the reason for such a high debt?
Our borrowings increased particularly during the last two years. There were two main reasons for this. We acquired a stake at NDB and also acquired the Namunukula Plantations Limited (NPL) which had a high debt burden. NPL debt was partly reduced by subleasing NPL's Uva Plantation range. Now NPL can service its own debts and is in a very healthy position. However, we are overall looking at how to further restructure our portfolio and reduce our debt and strengthen the balance sheet.
Is it good practice to borrow
money and buy shares of another company? Especially when the RPG is in high debt, was it prudent to buy NDB shares?
This must be taken in the context of the time the investment was made. RPG is a net borrower and any large acquisition has to be funded by further borrowings. NDB is fundamentally a good bank with good potential which made it an attractive long term buy. At the time of acquiring the stake at NDB, the stock market sentiments were different to what it is now. The interest rates also increased subsequently.
Are you planning to sell this stake in the near future?
We continually look at and re-evaluate our portfolio. As at date we have not decided to divest this stake.
At the recently concluded AGM of the RPG, the shareholders had many questions. At one point Mr. Paul Ratnayake, who had taken the chair, had asked a shareholder not to talk nonsense. Is that the way to treat the shareholders -- as a responsible company practicing good governance?
This is taken out of context. We are a very shareholder friendly company and entertain questions from any shareholder.
Why did RPC dispose of Asia Capital Shares when Asia Capital directors had advised its shareholders not to do so?
RPC board decided to accept the mandatory offer and to exit from Asia Capital. RPG never advised any shareholder of Asia Capital not to accept the offer, but the board of Asia Capital may have advised their shareholders what to do. This has nothing to do with what the board at Richard Pieris does.
Isn't highly irresponsible of the Chairman, Dr. Sena Yaddehige not to be present at a once-a-year held AGM? Also two other directors were not present. Is this not a bad practice?
Three directors were not present, as they were overseas and their absence was explained to the shareholders at the beginning of the AGM and excused. Some shareholders said that some questions went unanswered. This is not true all questions were answered. Some of the shareholders raised questions about the offshore companies which have invested in RPG. A shareholder wanted to know the names of the directors and shareholders of some foreign companies or funds which had stakes in RPG. Mr. Paul Ratnayake very clearly said that he did not have the information but asked the shareholder concerned to write to the company secretaries and if the secretaries do have that information and if they are legally entitled to give such information they would most certainly do so.
The market rate RPG paid for the property in Kandy was too high, according to some shareholders at the AGM. What is your opinion?
We acquire real estate for retailing in strategically important locations throughout the Country. The right "location" is the most important factor in retailing. We do a detail evaluation of the potential for each property prior to acquisition.They were also allegations that the AGM had people 'posing' as shareholders. Some shareholders said they may have been employees of the company, but there were serious doubts about these people.
What nonsense. Whoever was present at the AGM were 'definitely' shareholders or proxies representing shareholders. No one would have been allowed to register and attend the AGM, if not.
What is the RPG's market capitalisation?
During the last four years RPG's market capitalisation has increased from Rs.2.1 billion to Rs. 7.7 billion as at 31st March 2007.
What are your thoughts on the macro economics environment with regard to business today?
The macro environment is to very conducive to business at the moment with high interest rates, high inflation and the rupee depreciating continuously. Also some parts of the country are not accessible (such as the North) to trading. However during the last two decades our economy has had similar experiences and we feel that we are resilient enough to withstand these shocks.