'Home Town Blues' at Alliance Francaise
Intelligent, witty and very true to life French movie Le Blue des villes (Home Town Blues) will be screened at 3 pm Tuesday, July 31 at Alliance Francaise, Barnes Place. Directed by Stéphane Brizé 'Le Blue des villes' is played by Florence Vignon (Solange), Mathilde Seigner (Mylène), Antoine Chappey (Patrick), Philippe Duquesne (Jean-Paul).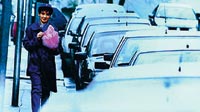 Released in 1999, the film revolves around traffic warden Solange who has grown tired of her ordinary day-to-day existence in a dull provincial town. Whilst her husband, Patrick, is perfectly content working as an assistant in a hospital morgue and decorating their new home, she yearns for a change. Solange's dream is to become a professional singer, but she has no idea how to make a start in that career. One day she runs into an old school friend, Marlène, who has become a household name as a TV weather forecaster. Encouraged by Marlène's success, Solange finally makes up her mind to leave Patrick and start a new life as a singer. She is sure that with Marlène's help, she will at last be able to escape from her pointless humdrum life…
The film provides an entertaining yet rather touching portrait of mid-life crisis. With a skilful blend of realism and comedy, the film tells a story which will easily strike a chord with anyone who is either living through or who has survived their angst-ridden "middle years". Although it offers many laughs, it is a well-observed and rather moving film, the comic touches often serving to emphasise its prevailing melancholic tone.