"Transformers" soon in Colombo
Live action 'Transformers' directed by Michael Bay and executive producer Steven Spielberg will be screened from August 10 at Majestic cinema Colombo. Based on Hasbro's TransformersTM Action Figures Transformers opened in the United States on July 2, and broke the box office record for the highest-grossing opening week for a non-sequel. Critics praised the special effects, but criticized the characterization.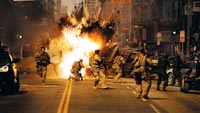 For centuries, two races of robotic aliens - the Autobots and the Decepticons- have waged a war, with the fate of the universe at stake. When the battle comes to Earth, all that stands between the evil Decepticons and ultimate power is a clue held by young Sam Witwicky (Shia LaBeouf). An average teenager, Sam is consumed with everyday worries about school, friends, cars and girls. Unaware that he alone is mankind's last chance for survival, Sam and his friend Mikaela (Megan Eox) find themselves in a tug of war between the Autobots and Decepticons. With the world hanging in the balance, Sam comes to realize the true meaning behind the Witwicky family motto - "No sacrifice, no victory!"
"I've been one of the biggest fans of Transformers TM since they first came out," says executive producer Steven Spielberg. "I'm not talking about buying the toys for my kids. I'm talking about reading the comic books and buying the toys for myself. I'd play with them at home with my kids, but I'm the one who was enthralled with them," he recalls. "I was a collector and I always thought the Hasbro toy line would one day 'transform' into a big summer movie."
Spielberg was not the only one to think so; several of the film's producers had the same impulse. While producer and former studio executive Lorenzo di Bonaventura and Hasbro COO Brian Goidner were talking about possible movies ideas
It was in 2002, Hasbro began developing its properties into films. Producer Don Murphy was looking to adapt G.I. Joe, but when the U.S. invaded Iraq, Hasbro suggested Transformers instead. Tom DeSanto joined the project as he was a big fan of the characters, and the two producers decided to explore why Transformers exist. They met with comic book writer Simon Furman and researched the Generation 1 cartoon and comics, deciding to focus on the Creation Matrix. DeSanto chose a human point-of-view in his treatment to engage the audience, in various storylines resembling a disaster film, as Murphy wanted it to feel realistic. The treatment featured the characters Optimus Prime, Ironhide, Jazz, Prowl, Ratchet, Wheeljack, Bumblebee, Megatron, Starscream, Soundwave, Ravage, Laserbeak, Rumble, Skywarp and Shockwave.
After they were rejected by many studio executives who did not grow up with Transformers, DeSanto met with Mike DeLuca in 2004, who arranged a meeting with Steven Spielberg. A fan of the comics and toys, Spielberg signed on as executive producer, and John Rogers was hired as screenwriter.