Vendetta influences Kinnara Damanaya
Marie Corelli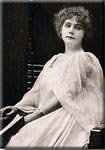 Marie Corelli (1855-1924) was the most popular novelist of the turn of the century, outselling Hall Caine, Mrs. Humphry Ward, H. G. Wells, and Arthur Conan Doyle by the thousands. For thirty years she was ridiculed by reviewers and the literary elite--Edmund Gosse dismissed her as "that little milliner"--but these opinions had no impact on her mass appeal. In 1895, with The Sorrows of Satan, she broke all previous publishing records, and by 1906 a Corelli novel sold 100,000 copies a year.
'Kinnara Damanaya' the miniplay based on world renowned novelist Marie Corelli's 'Vendetta' is now being screened every Monday at 8.30 pm on Rupavahini. The miniplay is produced and scripted by Prof. Nimal Senanayake who is well-known for his scripts for the teledrama 'Ella Langa Walawwa' and film 'Sankranthi' and the directed by award winning teledrama maker Thusitha de Silva.
The mystery and suspense filled story revolves around a man who returns from death after he died of snake bite. As he returns from the grave he comes to know that his good-looking young woman whom he married has now fallen in love with his best friend.
When he first meets his love in a church he was in the company of his best friend. 'Kinnara Damanaya' continues as the man makes his own schemes to win back the love of his wife.
Thusitha de Silva, the award winning teledrama director described his latest attempt as "drama with a different format". "It is not that easy to introduce novel formats to our audience as dramas with hackneyed themes of day today family life have managed to glue our viewer to the TV," says Thusitha who is in an attempt to do a difference in the Sri Lankan teledram scene. The director also commented the challenging role played by Palitha Silva and aspiring new comer Sampath Jayaweera who showed lot of talent in his role as Lenie in the drama.
Well trained make-up artist Jayantha Ranawaka has played a major role in changing Palitha's look to suit the character. Inspired by Marie Corelli's 'Vendetta', the novel written hundreds years ago Prof. Nimal Senanayake says that the story read long ago kept recurring in his mind compelling him to write a script for a teledrama. "But in order to suit the present context I had to change certain parts and characters. The mystic that you find in the drama is not found in the original Marie Corelli's novel,"
"The original story was about a revenge which I didn't want to present in the same way," Prof. Senanayake who is also the producer of the drama added. "Anyway it was a huge challenge to direct the drama while keeping the budget low. From selection of location to constume and to the final stage of the drama it was a challenge," says Prof. Senanayake describing the difficluties in bringing new themes.
This twenty two episode teledrama is played by Palitha Silva, Lucien Bulathsinhala, Daya Tennekoon, Cletus Mendis, Lionel Wickrama, Piyumi Boteju, Sampath Jayaweera, Nuwangi Liyanage, Giriraj Kaushalya, Susil Gunaratne, Gamini Jayalath, Victor Ramanayake, Anoma Jayasena and G.B. Gangodatenna. Camera handled by Upul Prajath 'Kinnara Damanaya' is edited by Bhathiya Dunusinghe. Music maestro Premasiri Khemadasa has composed the music while the art department was handled by Newton Gunasekara as assistant in the direction of Kinnara Damanaya.