"Hari Lassanai"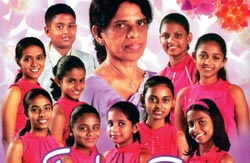 'Hari Lassanai', a cassette and a compact disc with children's songs with lyrics and melodies done by Karuna Weerasinghe, a teacher at Presbyterian College, Dehiwela was launched recently.
Filling a great void, songs for children, Ms. Weerasinghe's attempt is timely and praiseworthy. The themes in the songs in "Hari Lassanai" are on the beauty of village, maternal love, environment, clouds, the world of fairies and a bull and a bullock cart.
To the music composed by Janaka Perera, the songs are sung by students of Presbyterian College and children from five other schools. Though sung by children mainly for the children audience, the collection could be enjoyed by everyone.
"Hari Lassanai" could be available by writing to Karuna Weerasinghe at Niwungala, Piliyandala or telephone numbers 2702934 and 0714095828.