Butter-fingered CH!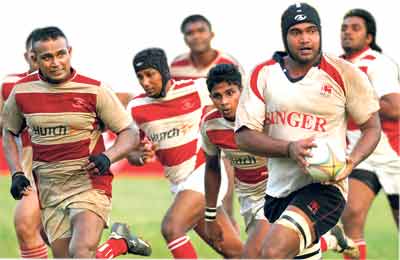 Kandy SC in attack. CH lost the game at 5-16 after leading 5-3 for most part of the game. – Pic by Ranjith Perera
CH must be kicking themselves for having let Kandy SC off the hook in their Caltex A Division league rugby game at Maitland Crescent yesterday. Butter fingered CH! There is no other way to describe them. Having led 5-3 for most part of the game, CH fell and succumbed to a 5-16 defeat at the hands of league champions Kandy SC.
CH has none to blame but themselves. They dropped passes at crucial stages and let Kandy bully them to such an extent that two players were shown the red card and they played with only 13 men for most of the second half.
The game was refereed by a foreigner – Scottie Herbert from the Arabian Gulf – as both CH and Kandy had wanted a neutral official having no faith in the local referees. On the other hand it was felt that a local experienced referee would have done justice to the game instead of the referee who had come all the way from the Gulf region.
Kandy shot into the lead in the 35th minute when NalakaWeerakkody fired over a 35 meter drop kick. CH had a chance of equalizing but Sajith Bandara's penalty just outside the '25' lacked direction.
CH caught Kandy napping when nippy Lakala Perera crashed over for a try after a breezy 35 meter run following an up-and-under by fly-half Sajith Bandara.CH led 5-3 at half time. It was a pathetic display to see the experienced Nalaka Weerakkody allowing Lakala to score with hardly an attempt to stop him. During this period Eranga Weerakkody of Kandy was shown the yellow card.
The second half provided more heart burn for CH with Sajith Bandara and the omnipresent Jimmy Bolokoro being red carded at different times.CH were reduced to13 men.
In the confusion that prevailed Kandy scored through Saliya Kumara and Nalaka Weerakkody converted with ease. (Kandy -10, CH -5) . In order to keep CH at bay Nalaka Weerakkody showed his kicking prowess in no uncertain terms when he out over a 50 meter drop kick (Kandy-13,CH-5).
A few minutes later NalakaWeerakkody was on target with a 35 meter penalty and Kandy literally limped off the field, without showing any of the bravado which had given them the league title on a platter this year as well.