Susanthika wins 200 m dash too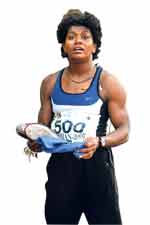 Sri Lanka's Susanthika
Jayasinghe looks at the result board after competing in the women's 100 meters race during the 17th Asian Athletics Championship in the Jordanian capital Amman. AFP
Amman, Jordan – Thirty-one-year old Susanthika Jayasinghe, won the gold medal in the 200 meters dash with a time of 22.99 secs two gold medals at the 16th Asian Athletic Championships (women's 100 and 200 meters) here and has now set her sights on the World Athletic Championships to be held in Osaka, Japan in August next year.
Susanthika is the only athlete to bag two gold medals at the Asian Athletic Championships in Jordan. Prasanna Amarasinghe won gold in the men's 200 meters. Sri Lanka bagged three gold, one silver and one bronze at the meet.Sujani Buddhika also from Sri Lanka took second place with 23.31 secs. Vu Thi Huony of Vietnam was third with 23.80.
"In order to do well in Osaka, I hope to go to the USA for further training," said Susanthika to The Sunday Times yesterday. Susanthika is the only athlete from Sri Lanka who has come within the stipulated timings to take part in the World Meet in Japan next year.
"But it looks as if I will have to go to the United States and Japan all alone," said Susanthika, adding: "I have asked for a coach and a helper. But officials are silent about it. I am told that three officials will proceed to Osaka, Japan next year with me. I am only asking my husband and coach Dhammika Nandakumar to accompany me. Will those three officials help me with my luggage or do my cooking?" asked a distraught Susanthika.