Jumbos drive fear into Alutgama villagers
The conflict between man and beast is now becoming too frequent with the villagers of Alutgama in the Karuwalagaswewa divisional secretariat area being the latest affected in the confrontation.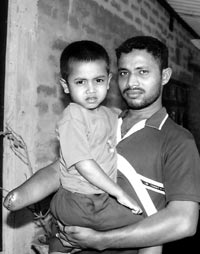 Chaminda, sans his right hand, with his son
A herd of elephants was said to be going on a rampage night and day scaring the villagers. Children are scared to go to or come back from school due to the menace while women are frightened to go about their daily chores at home. Already two villagers have suffered injuries during the last three months. They are Chaminda Warnakulasuriya (27) and Chandrawathie (39).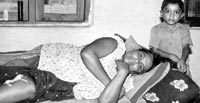 The injured Chandrawathie with her son.
Chaminda was injured when a fire cracker, meant to scare the animal, went off in his hand. He was sleeping at home with his wife and child when the animal came to their compound.
Today he has lost his right hand as a result. A mason by profession he now finds it difficult to do his job due to the loss of his hand.
Chandrawathie was returning home after work when she was confronted by the animal. A mother of two with a husband without a job, she had decided to go to work.
The only plea of the villagers was that these elephants be sent back to the wilds so that they can be free from harassment and attack.