Bhaila act fails to spare the axe
Deputy Foreign Minister Hussein Bhaila returns to Sri Lanka today empty handed after failing to secure clemency for a Sri Lankan girl facing death by beheading in Saudi Arabia. His highly publicised odyssey failed after he could not obtain appointments with officials or higher dignitaries in the Saudi Government or any immediate members of the family who were the one time employers of 19-year-old Rizana Nafiq.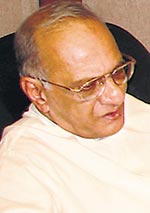 Bhaila
According to reports from Saudi capital of Riyadh, Government officials there had insisted that a minimum of twenty days was required to arrange engagements. That again was if a foreign dignitary was visiting the Royal Kingdom on an official visit. If such a visit was not official, they had explained to the Sri Lanka Embassy in Riyadh that such engagement could not be lined up.
A meeting with immediate members of the family who had employed Rizana had also not materialized. The father of the baby who allegedly died in the hands of Rizana had been angered after a Saudi national, said to be the head of an umbrella organization of labour recruiting agencies, spoke to him on the telephone. He had refused to either discuss the matter or grant an appointment. Foreign Ministry officials in Colombo declined to comment on the report and said they were awaiting the return of the Deputy Minister.
Before departing Colombo, Mr. Bhaila described his assignment in Saudi Arabia as a working visit to save the life of Rizana. Having failed in his task, Mr. Bhaila used the visit to perform Umrah — a ritual similar to Haj — in the holy city of Mecca and pay a visit to Medina.
During his visit Mr Bhaila had handed over an official a letter from the Foreign Ministry in Colombo to be delivered to the Saudi Foreign Minister and a separate letter from Mr. Bhaila to the Governor's office in Riyadh.
Prior to his visit the minister said he was also planning to meet the Governor, but the Governor was out of town.