Geoffrey Bawa awards for architectural excellence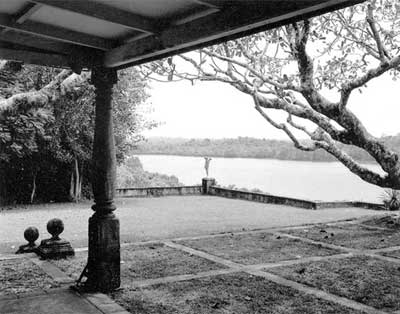 One of Bawa's architectural masterpieces – Lunuganga
The Geoffrey Bawa Trust this week announced the launch of the Geoffrey Bawa Award for Architecture 2007/2008 which it hopes would become the profession's highest recognition of work that exemplifies excellence in architecture in Sri Lanka.
The award was announced to the media and industry at a gathering that took place at Bawa's home at Colombo 3. "The launch date is symbolic in that it coincides with the birth anniversary of the eminent, late architect who undoubtedly remains one of Sri Lanka's most distinguished creative personalities having brought honour to himself and Sri Lanka," a statement from the organisers said.
Modelled on the lines of the world renowned Aga Khan Awards for Architecture organized by the Aga Khan Trust Culture in Geneva (which Bawa was a recipient of), the award scheme aims to recognize and reward significant examples of contemporary architecture, with the end objective of fostering excellence in architecture and to encourage its wider appreciation in the community especially in developing countries. It is open to all Sri Lankans and will encourage design and construction from all parts of the country. Selection will be based on good design while emphasis will also be placed on construction that harmonizes with the environment and communities that it is built within. Any building in Sri Lanka completed and occupied during the past 10 years, which is in accordance with and complement the surroundings, regardless of size, cost, or location, will be eligible for the award, the statement added.
An eminent panel of judges will draw up a shortlist from the initial list of submissions and thereafter expected to arrive at unanimous recommendations.
Channa Daswatte, Architect and Trustee of the Geoffrey Bawa Trust, speaking on the Awards, said, "The Trust aims to promote Bawa's vision of fostering and supporting the development of architecture and aesthetic pursuits in Sri Lanka. In furthering this goal, the Award is intended to provide encouragement and recognition for those that have, as Bawa himself has done throughout his life, contributed to the community through the avenue of architecture. The awards are a celebration of our professional's continued vitality and unique creative ability" he re-iterated." The recipient of the award will receive Rs. 1 million in prize money at a special ceremony to be held in July 2008 and every four years thereafter commemorating the birthday of late Geoffrey Bawa.