'Wansakkarayo' exposes evils of politics
'Wansakkarayo' a miniplay depicting the corrupted political culture directed by Nihal Fernando will be telecast every Thursday at 9.00pm on Swarnavahini starting from July 19.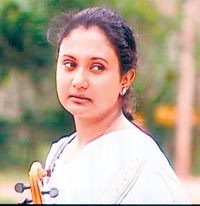 Damitha Abeyratne
The fifteen episod miniplay depicting human emonations like love, hatred, jealousy and revenge stars Cyril Dharmawardana, Janak Kumbukage, Suvineetha Weerasingha, Damitha Abeyratne, Priya Ranasinghe, Robin Fernando, Sadun Wijesiri, Srinath Maddumage, Rex Kodippili, A. M. G. Amarakoon and Vinoja Nilanthi in the main cast.
The protagonist in 'Wansakkarayo' is politician Wickrama Gajanayaka, a father of two daughters and a son with his three strong headed brothers, who also play key roles.
One of Gajanayaka's daughters married to Ranjith, who works for the opposition political party. Following Gajanayaka's defeat in the election, Ranjith starts to look down on his father-in-law and he uses this defeat to tarnish his image. Vexed by this other daughter gets together with her three uncles (Gajanayaka's brothers) to battle against her father's opponents and enemies.
Gajanayaka's only son falls in love with a school music teacher and this disappoints the headstrong father. Angered by the fact that his son has involved with a girl lower to their status, Gajanayake visits girl's home and threatens to end the affair with his son. Ranjith who comes to know this, takes advantage over the situation. Meantime the girl, young music teacher disappears and found dead later. Police suspect Gajanayaka's son and Gajanayaka himself.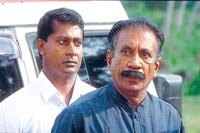 A scene from the teledrama
Meanwhile Gajanayaka's daughter and her three uncles try their best to find the real killer. However it proves that Gajanayaka was innocent of the charges . Yet he is suspected by his own son. The accusation by his own son disappoints and torments him and this follows a fall in his long built political image.
''Wansakkarayo' comes to an end with the death of two important characters. Make up by Sanjaya Nipunaarachchi, camera Gamini Chaminda, editor Buddhika Ranasingha and music director is musical maestro Premasiri Kemadasa. Asssisted by Bathiya Madanayaka and Priyantha Fernando story, script and director is Nihal Fernando. 'Wansakkarayo' is produced by Ruwanthi Weerakkody.