Farbrace chosen as assistant coach
It looks like another Englishman is going to replace the position of assistant coach Trevour Penny. Fielding specialist Paul Farbrace – the former wicket keeper of the English county Kent now has been singled out to take over the position of the Assistant Coach of the Lankan National team.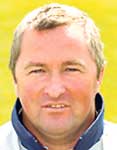 Paul Farbrace
The Interim Committee of Sri Lanka Cricket earlier named the former Sri Lanka fast medium bowler Rumesh Ratnayake to form a team with the appointed head Trevour Bayliss, but, the former declined to take up the position after agreeing to take the position initially. This prompted the Interim Committee to request Bayliss to hand-pick his own choice to assist him.
The forty year old former wicket-keeper has handled the England under 19 team as well as the England Women's National Cricket team before taking the position of Kent Academy coach.
Farbrace turned out for his native county Kent in 40 first class matches making 711 first class runs with a highest score of 79.
A senior official of the SLC Interim Committee commenting said "We have singled out Farbrace, but, the appointment has to be ratified by the Interim Committee next week".