Wiz kid Somaratne topples reigning champ
Former national billiards and snooker champion veteran Henry Boteju of YMCA and young Ryan Somaratne of OAC came out on top on day two of the 54th Snooker Nationals which is in progress now at the Billiards and Snooker Association headquarters tables at Reid Avenue.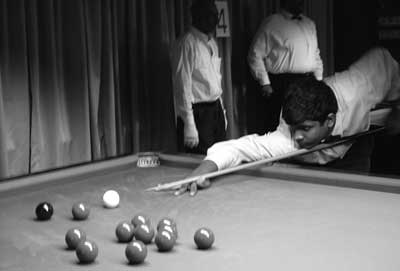 Young Somaratne in action yesterday
Boteju showed that he has not lost his knack yet when he routed up and coming youngster S.M. Zulfikar who is also his club mate by four frames to nil while Somaratne created the first upset when he defeated the experienced K.H. Sirisoma of SLPA who is the present national billiards champion by four frames to three in a ding-dong battle of the seven frame round robin encounter.
Boteju's match played in the morning session saw the veteran in top form though not being able to make any big breaks he kept on accumulating points and never gave his opponent a chance. In another game between M.J.A. Thasleem of MSC and P. Pushpakumara which was played in the afternoon and expected to be a cliff-hanger turned out to be a one sided affair.
The game began with Pushpakumara forfeiting a frame to his opponent as he came 15 minutes late for the match. This put him on the back foot and he never recovered from that lapse. Eight matches were scheduled to be played in the morning and afternoon session but only five matches were worked off as the others ended in walk overs.
The snooker nationals conducted by the Billiards and Snooker Association is sponsored by Sumathi Group of Companies and played for the U.W. Sumathipala memorial trophy. The winner apart from the trophy will receive a cash award of Rs. 25,000/- the runner up 15,000/- and the second runner up Rs. 7,500/-. Besides that to encourage the players Shafik Rajabdeen an ardent supporter of the game is offering a cash award of Rs. 5,000/- for every century break made by a player in the tournament.
Results: Henry Boteju (YMCA) beat S.M. Zulfikar 4/0 (72/34, 53/14, 68/38, 61/09). Nalin Senaratne (Police) beat Sunil de Silva (OAC) 4/2 (55/35, 50/39, 59/38, 28/45, 25/64, 48/43). M. Sethupathi (YMCA) beat M.F.M. Fawaz (MICH) 4/2 (16/51, 82/12, 59/32, 74/41, 23/45, 69/27). M.J.A. Thasleem (MSC) beat P. Pushpakumara (YMBA) 4/1 (82/32, 79/36, 49/78, 70/49). Rohitha de Silva (SLPA) beat Wazir Hashim (BPPP) 4/1 (72/65, 31/39, 53/19, 57/48, 58/19). A.A. Kareem ((MSC) beat Anil Rohana (CSC) 4/2 (51/21, 39/58, 52/18, 15/57, 53/17, 58/33). Ryan Somaratne (OAC) beat K.H. Sirisoma (SLPA) 4/3 (61/35, 33/68, 54/24, 45/55, 47/18, 43/50, 55/45). O. Sirajudeen (YMBA) w/o from W.M. Naushad (AAC). Dr. A.P.P. Somaratne (Health SC) w/o from Zuraish Hashim (OAC). P.J.M. Ameen (YMCA) w/o from Susantha Boteju (YMCA).