Batting comes naturally to them
Reading is the favourite past time when rain interrupts cricket. It was two such days in Kandy when only fifty five overs of play were possible as Sri Lankan and Bangladesh players ducked in and out of the dressing room.
The first few paragraphs in an article published in the Cricinfo magazine of May drew my attention. In fact I thought it worthwhile to reproduce - the writer being Suresh Menon.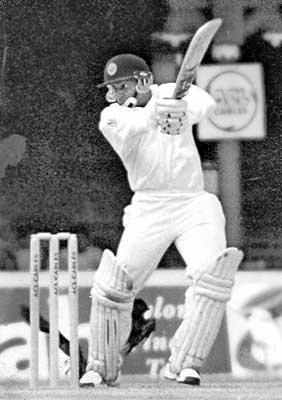 Aravinda – The batsman who transformed Sri Lanka into its present mould.
"Two decades ago during a radio interview I asked Gulam Ahmed to name the best batsman he had bowled to. I thought he would say Everton Weekes, whom he had twice caught and bowled in the same test after Weekes had made a century each time; or Len Hutton, Denis Compton, Hanif Mohammad, Gary Sobers, Rohan Kanhai – Gulam had bowled to some of the best in the world.
"Sathasivam" he replied without hesitation. "Ah yes, the Sri Lankan genius", I said airily, having heard from old – timers just what an incredible player he was. Mahadevan Sathasivam's double century sixty years ago is still considered one of the best seen on the Chepauk Cricket Ground. Sathasivam seemed a prototype of M.L. Jaisima, with his handkerchief around the neck and cap at an angle, and the air of a man who owned the crucial twenty two yards.

It would never have occurred to the likes of Sathasivam, and F.C. de Saram and later Michael Tissera and Anura Tennekoon, Sri Lanka's finest batsmen in the pre-test era, to claim an unique quality to their batsmanship. But they were a part of a continuum that has led to Sanath Jayasuriya and Mahela Jayawardena."
How very true. Looking back at the twenty five years gone by since becoming a test playing nation, Sri Lanka's batting has been their strength. Since the arrival of Muttiah Muralitharan and Chaminda Vaas, the bowling has moved up to a different level and now match with the best attacks in the world.
The reason for the batting factory to keep producing quality players, has been a tradition of being technically sound. This combined with a natural ability and passion to succeed has seen thousands of school boys soundly developing as batsmen and many moving on to play at higher levels.
When the team got into the big league, the batting rested on the shoulders of Bandula Warnapura (captain), Duleep Mendis (vice captain), Sidath Wettimuny and Roy Dias. Although they did not chalk up huge amounts of runs, they impressed in the games they played in. Younger players of that era, Ranjan Madugalle and Arjuna Ranatunge, took over the baton and by 1996, there were players who could rub shoulders with the best.
Aravinda de Silva led this new breed. He was the master in any situation and in all conditions world wide. This was the role model batsman for the Sri Lankans to follow. A player with nimble foot work, exceptional eye and judgment and fully equipped to play strokes on both sides of the pitch and in front and behind. Wristy flicks, elegant drives, powerful back foot strokes made him a complete product of this region.
Since the turn of the century, the national team has had a complete diet of international cricket, both in tests and ODI's. It has created a mass of opportunity. The result has been the weight of runs scored and being scored by the likes of Sanath Jayasuriya, Marvan Atapattu, Mahela Jayawardena and Kumar Sangakkara. They are carving records and passing many milestones. The new players in the side are integrating with the seniors. Chamara Silva, Upul Tharanga and now Michael Van Dort have taken a step up in the last couple of years. They have the ability to go on to reach the top bracket.
Youngsters Malintha Warnapura, Kamal Udawatte, Kaushal Silva are knocking on the door. Sri Lanka's batting machine must continue to produce and that will happen should young cricketers cling on to becoming technically competent players.