To beat the unbeatable foe
Even a huge warrior like Napoleon failed to do it. This soldier who changed a phase in the world's history could never come back to Waterloo's and show his oppressors how to win a war and become the greatest warrior of them all. Could our own fighting machine Muttiah Muralitharan with nine more scalps to go could reach that magical land mark in Australia and beat Shane Warne's haul of seven hundred and eight wickets – in a place where it almost became his own Waterloo some years ago. After taking on England in a five match series in the cow-boy version of it, Muralitharan will step into Australia in October to recreate cricket history and perhaps reach a mark which then onwards may stand the Test of time. To do this he has two test matches and a possible forty wickets to capture.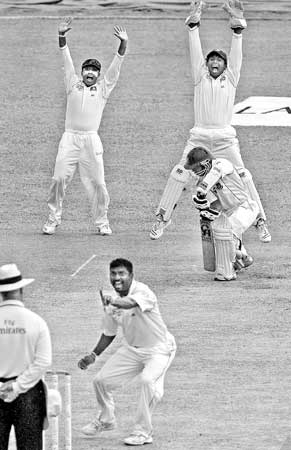 A common sight while Murali is in operation
Perhaps when the Australian cricket machine enticed the infamous umpire Darell Hair to accuse Muralitharan of throwing the ball they must have foreseen that this man was going to be their nemesis and take away a part of the glory that they were building on to themselves by creating the most lethal weapon in cricket—an unconquerable cricketing module that would hardly lose at any given task.
The Sunday Musings queried from none other than his former team mate and now respected ICC match referee Roshan Mahanama what he felt of this colossal feat taking place in no other place than Australia. Mahanama said "I am happy that I was in the game in an era where both Warne and Muralitharan were in the centre stage. Both of them were characters as large as the game on and of the field and came into the game when spin was a dying art. Their rivalry infused a lot of meaning into this perspective of the game and now today, the art of spin bowling has become very necessary tool in the game of cricket.
"Coming back to the point of Murali's feat and the chance of making it in Australia -- there was a time when the World cricket did not take us seriously. But, with the advent of Muralitharan into the side and through his exploits, we have become a formidable foe. At present we are beating every other Test playing nation on a regular basis and from here onwards we must also go on to beat Australia regularly.
"However on the event of him reaching this milestone I will not only be happy as a cricketer who played the game along with him at one stage of his career, but will be happy as a Sri Lankan for bringing such honour to our tiny nation. At the same time I hope Murali should not stop at this and must go further and play for many more years to come".
Reaching new heights in his given field of activity is nothing new to Muralitharan. Arguably he is the only man on earth who has taken over a hundred wickets in three venues in his home country – At the SSC, Galle Stadium and the Asgiriya Stadium now. Also in this series during the first Test match when he bagged nine wickets he moved on to the fourth position of all-time greats with 916 points to his credit. Two cricketers above him – S.F. Barnes and G.A. Lohmann of England played the game in 1896 and 1914 respectively and it was an era that the game was not so competitive as today. In the third place is the Pakistani legend Imran Khan who is six points ahead of him at 922.
The next man who is still in the game in the all time great list is South Africa's Shaun Pollock who is at the tenth place while the next current player that is in the 35th place -- he is England's Steve Harmison. So climbing this mountain is not an easy task at all.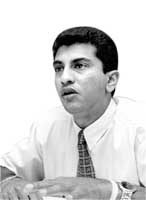 Mahanama said "I am happy that I was in the game in an era where both Warne and Muralitharan were in the centre stage. Both of them were characters as large as the game on and of the field and came into the game when spin was a dying art.
However it is only a matter of time that this wizard would make his own abode at the top of this crescent too. Then at the end of the first innings of this third Test he completed his 59th five wicket haul and where he would end doing this is unfathomable. The list goes on and on and will only add more to it as the time goes by.
For information Shane Warne who now has the all time highest tally of 708 wickets is perched at the 25th place with 905 points.
In this series Murali reached another milestone becoming the only Sri Lankan to capture more than one hundred Test wickets at the Asgiriya Stadium.
However here lies the problem. So far in his illustrious career Muralitharan has played only in two Tests in Australia and that too in that fateful 1995 series when they tried to call him a throwing cheat. In that series he bagged only three wickets at a huge cost of 398 runs in 92 overs at an average of 116 runs a piece. Since then he more often than not has chosen to give a miss to engagements against Australia which were played in Australia – mainly as a result of the treatment that he has received from the partisan Australian public.
So far in the two Test matches played in Australia
The former Sri Lankan coach Tom Moody recently went public saying that he was ashamed about the treatment meted towards Muralitharan by the Australian public and made an appeal to spare him.
However Muralitharan's currently intended visit to Australia is of another dimension. In 1995 when he last played Test cricket in Australia he was a raw twenty-two year old lad groping his way in darkness with only a few wickets against his name.
When Muralitharan steps off the plane in whichever the airport in Australia this time he will be seen like a giant to the Australians – not for his stature, but for his deeds. Then with them having to possibly lose one of their most cherished trophies on their own home soil, we just can imagine what the reaction of the Australians would be.
Nevertheless I do not envy Murali's task, but I only wish I was him.