Lanka in with a good chance
Love will not be lost when the Asia-Oceania Division Three Davis Cup tournament gets underway at the Sri Lanka Tennis Association (SLTA) Courts on Wednesday. Promotion to Division Two, is the prize on offer for the winner of this the most prestigious men's team tennis tournament.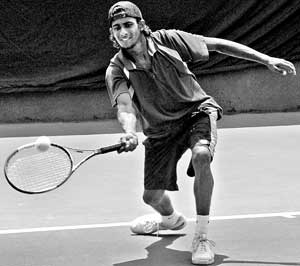 Sanka Atukorale
Team Manager Vasantha Wijesekera, Swiss Coach Dominik Utzinger and their team have collectively done their job. So has the SLTA led by President Janaka Bogollagama, Suresh Subramaniam, Lionel Almeida and their staff. The newly laid hard courts at the SLTA are testament to that. Now it is up to the players led by vastly experienced non playing Captain Rohan De Silva.
Unlike last year where Harshana Godamanne had to bear a whole country's expectations on his shoulders, the home team has been strengthened by the return of Renouk Wijemanne. Wijemanne is both a player and a coach in the United States of America .
Obviously team strategy and tactics is veiled in secrecies. But the Sunday Times caught up with the squad to find out how they felt about their form and more importantly how they plan on getting Sri Lanka promoted.
We first talked to skipper De Silva. He said: "We have a relatively young but experienced team. We are certainly stronger than we were last year. In addition we are playing at home and that is yet another advantage. In comparison to last year there are numerous reasons one has to take in to consideration. Conditioning and training is much better this year. Then there is also the return of Wijemanne. Godamanne has gained more experience and so has Rajeev Rajapakse. I do not know much about Lebanon, but the other countries I am familiar with. Thus I believe on paper we have a good chance of winning this tournament and progressing to Division Two of the Davis Cup."
Harshana Godamanne who is just 22 years of age is mature and experienced beyond his years. This year will mark the fifth successive time that he is representing Sri Lanka in the Davis Cup. Godamanne has a world ranking of 1300 and since the month of November last year, has been under the tutelage of coach Utzinger in Thailand. Godamanne said: "I think I am peaking at the right time. I believe our first goal should be to finish on top of group at the end of the round robin stage. This will take some of the pressure off the whole team. I am also really happy that Renouk (Wijemanne) is here because that does take some pressure off me. Last year I had to play something like eight matches in five days. Physically I feel good, but I do need to put in more gym work because my coach has told me that my fitness needs to go up a couple of levels or else I could suffer from injuries in the long run. Playing I believe is a double edged sword. On one hand there more pressure to win, but on the other hand there is crowd support and we are also used to the conditions. But I do not think whether will be factor as many of the countries have similar conditions. I do think that if we play to our potential, we have good chance of getting promoted."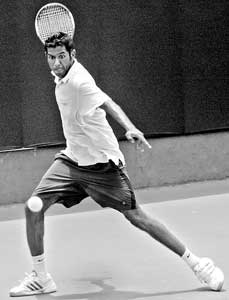 Rajeev Rajapaksha
Playing in his fifth Davis Cup is Renouk Wijemanne. The 25 year old is based in Southern California where he coaches the men's team of Loyola Marymount University and also plays in open tournaments. He said: "I feel good about my personal form. When I first came back from the US the conditions took a bit of getting used as the humidity level was very high. But now I am used to it. The training in Thailand was good. I would have liked to play in more tournaments, but was unable to do due to various circumstances. Physically I am fine. Each player has a different approach to the game. I will go out there, play my game and hope the chips fall in to place. The coach has told me a few things which I have tried out and collectively I think we can progress to the next division.
Competing in his eight Davis Cup is 27 year old Rajeev Rajapakse. He said: "I think we have a good chance of progressing to next division. All the guys have been working, sometimes from 10 in the morning to 7 in the night. And I believe that all this preparation will pay off. Personally I have been playing tennis since the age of nine and have been improving each year."
The babe of the team is Sankha Atukorale. The 20 year old is making his first Davis Cup appearance. He said: "I was a bit scared, but excited at the same time. But after our training regimen my confidence is much higher. Dominik (Utzinger) has helped me lot. We have done a number of doubles drills etc.. Playing at home is something that can help us. I sincerely hope the crowds come to cheer us on. I think we have a good chance of getting promoted this year."
Thus the team is confident, all the preparations have been made and all that remains is for the action to begin on court of course.