Breaking the silence
"She's deaf and dumb," said the mother of the 28-year-old woman in Dr. Devika Suriyawansa's clinic, "she can't understand what you're saying." Appalled by the mother's attitude, Dr. Suriyawansa, Consultant Obstetrician and Gynaecologist, scheduled an ENT check-up for her patient in addition to her gynaecological treatment. A few days later the young woman, fitted with a hearing aid, could hear for the first time in her life. As she softly spoke her first word - "Amma" - her mother burst into tears. A lifetime of silence had been broken.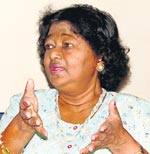 Dr. Suriyawansa
Realising how many lives were probably being wasted out of sheer ignorance or negligence, Dr. Suriyawansa decided to initiate a project that would enable parents to know at birth if their children were hearing-impaired. The project, launched by the Perinatal Society of Sri Lanka (PSSL) of which Dr. Suriyawansa is Immediate Past President, is targeted at providing national hospitals with otoacoustic emission testing - where a machine is used to diagnose deafness or impaired hearing in infants. "This is the first project of its kind in Sri Lanka," says Dr. Suriyawansa, adding that this procedure is currently performed with great success in countries all over the world.
Hearing loss is the most frequently occurring birth defect, affecting an estimated three of every 1,000 newborns. It can be due to a congenital abnormality of the ear, viral infections such as Rubella during pregnancy, or toxic drugs taken by the mother which affect the auditory nerve of the baby in the womb. A cleft palate can also contribute to hearing loss.
Usually it is only identified much later when parents notice something wrong, such as delayed speech. Typically children reach the age of two or three and in many cases even six years, before congenital hearing loss is identified. By this time, explains Dr. Suriyawansa, much of the damage has already been done and the child has lost precious months of intellectual and psychological development.
It delays the gaining of fundamental language and social skills necessary for later success in academic and social life. These are difficult to acquire if not done in those first crucial years after birth, she says. Impaired hearing causes speech defects as well and research has shown that even mild hearing loss, or hearing loss in only one ear has substantial detrimental results such as slow academic progress.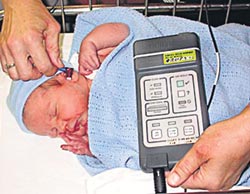 The procedure is currently performed with great success in countries all over the world.
"It is not just being able to hear sound," says Dr. Suriyawansa, "but also being able to interpret it correctly - the way infants identify their parents' voices or other little sounds affects their development even when they are in the womb."
By early identification and intervention on the other hand, hearing impaired children are able to develop extremely well and keep up with their peers. Once diagnosed, ENT specialists will be able to take necessary measures to treat the condition. Infants with hearing loss can be fitted with amplification - hearing aids which amplify sound so that it can be heard by the affected individual - before they are one month old.
The otoacoustic emission testing procedure is simple and can be done at a relatively low cost, says Dr. Suriyawansa, adding that it does not even require trained medical personnel. An otoacoustic emission tester costs about Rs.500, 000. The PSSL hopes to raise sufficient funds to provide five national hospitals - De Soysa, Castle Street, Lady Ridgeway, Colombo South Teaching and Colombo North Teaching Hospitals - with the necessary equipment. A single machine can be used to screen all newborns in a given hospital.
The PSSL, launched in 2001, aims to look after the welfare of mothers and babies during pregnancy, confinement and thereafter. Comprising of Obstetricians, Paediatricians, Neonatologists, Community Physicians and other specialists, it concentrates on researching and taking measures to avoid certain death and disease conditions of the mother and baby during this period.