263 Sri Lankans among 2400 NASA scientists
Sri Lanka has produced efficient scientists but most of them are abroad.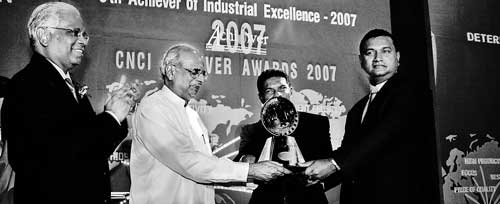 Picture shows Minister Tissa Vitharana presenting the Gold Award to the CEO's of Kelani Cables Ltd and ACL Cables Ltd, joint winners of the Achiever of Industrial Excellence in the National level extra large Category in the presence of the Chairman of the National Chamber of Industries A.K. Ratnarajah.
Among the 2,400 scientists at NASA, 263 scientists are Sri Lankan nationals according to Minister of Science, Professor Tissa Vitharana.
He said Sri Lanka is deprived of the services of these first-class scientists as they venture abroad to seek better opportunities.
The minister made these comments when he participated as the chief guest at the CNCI Achiever Awards ceremony held in Colombo last week where he also spoke on nano technology.
Nanotechnology which is a minute energy source is to be introduced in Sri Lanka to improve the country's industrial productivity with a government investment of Rs 5 billion in the next five years.
A national Nano technology centre and a laboratory will be set up at a 50 acre site in Homagama where construction work will begin this year. It will be ready in three years, the minister said.
He added that by introducing this technology Sri Lanka will be able to leap frog successfully meeting the future challenges in the modern world.
Nanotechnology is a field of applied science focused on the design, synthesis, characterization and application of materials and devices on the nano-scale. The minister pointed out that the country remains underdeveloped mainly due to the failure to be exposed to advanced modern technology USAID Mission Director in Sri Lanka Rebecca W. Cohn revealed that her institution has worked in partnership with CNCI to set up a library at the chamber to assist industrialists, businessmen and the public at large to keep abreast of the latest trends in the business and industry. Chairman CNCI A.K Ratnarajah said that the policy of the chamber is to encourage the industrialists to operate as globally competitive enterprises not withstanding the ever-changing world environment.
Kelani Cables Ltd and ACL Cables Ltd were presented with the Gold award for Industrial Excellence 2007 at National level in the extra large category while Union Chemicals Lanka Ltd bagged Gold in the National level large category.
Silicone Coatings (Pvt) Ltd received the Gold Award in the Provincial level extra large category. The Ceylon National Chamber of Industries (CNCI), held its CNCI Achiever Awards for the 6th consecutive year on July 6.