CR struggle, but the bad dream ends
*CR & FC 32
*Police SC 15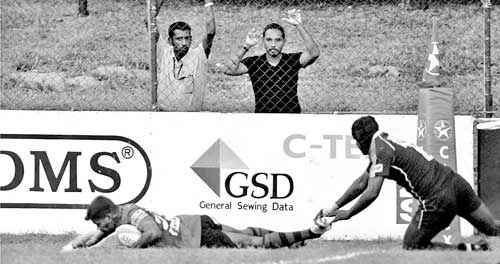 Yes….It's another CR try planted. ( Pic by Ranjith Perera)
Fallen from their high horse after last weeks' defeat against Kandy SC; CR and FC had a point to prove and that they did so too by holding down Police SC to take the honours and repair their tarnished ego. The final score line read CR and FC 32 points (1 Goal and 5 Tries) to Police SC 15 points (1 Goal, 1 Try and 1 Drop-goal) at London place last evening.The start of the game was uncharacteristically approached by CR and FC and was very gingerly; they had to forget and overcome that bad dream that they had to live through for over a week, but didn't seem at all in a hurry to do so. They made some very elementary mistakes but the classy out fit didn't let the visitors take advantage of them. CR drew first blood when the 'Big Boy' T. Henry penetrated the Police lines and helped Ruwan Hettiarachchi go over for a try.
Then just minutes later Naveen Wijethunga went over for another (converted by the boot of Sheriff) and a third try not too later followed courtesy R. Hettiarachchi putting the home boys ahead by seventeen points to nil.
Then much to the surprise of all those witnessing CR committed a string of errors, it was unexplainable as the entire front liner looked like they had suddenly developed 'butterfingers'. Capitalizing on this the Police pushed hard, with homeboys looking around the Police Stand-off Harshan Wijeveera in the number ten jersey connected a crafty little drop goal to put three points on the board. At the breather the score line was seventeen to three in favour of the home boys.
The second half was dominated by CR, holding more possession. But the iced-up Police lads didn't let their hosts waltz over to victory, they came back to score first with A.S.A. Dias going over for a try and narrowed down the home teams lead. But with CR bringing in "Khali" (Hasith Perera) and Bucksh on to the field, CR took the game to the next level. Scoring three consecutive tries courtesy N. Hettiarachchi and Anshurd Bucksh, this delivered the final knockout blow for Police. Just before the final whistle the visitors managed to go over for a consolation try courtesy A.S.A. Dias (converted by H. Wijeveera). Too little too late it was for Police.
Referee – Pradeep Fernando