Isipathana strikes thrice and drowns Trinity
*Isipathana 18
*Trinity 10
Isipathana struck thrice in the first half and then held on to win by 18 points (3 tries, 1 penalty) to 10 (2 tries) in the face of a resolute fight back by Trinity in a fast-paced, open game of rugby at Pallekele yesterday.Trinity strove hard to pierce the Isipathana defence early on but was stalled by the latter's terrific tackling and the fine linekicking of full back Reza Mubarak. Significantly, Mubarak was injured after about 20 minutes and left the field. Trinity capitalized on that.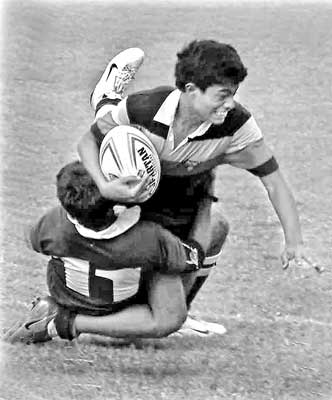 The story of the day…..An Isipathana player thwarts another Trinity move (Pic by Shane Seneviratne)
Isipathana entered Trinity territory twice in the first 15 minutes and scored on both occasions. After the fly half had made a side-stepping run into Trinity's 22, the ball changed hands and winger Kasun Gamage went over. Minutes later, a beautiful three quarter move saw centre Dinusha Chaturanga make the score 10-0.
In the 20th minute, Isipathana's threes swept into action. This time the other winger Vishvamitra Jayasinghe scored to make it 15-0.
The writing seemed to be on the wall for the lions but they came back well. Minutes before half time, skipper Sean Wanigasekera scored off a forwards rush to make it 15-5 at lemons.
Number 8 Jazeer Hassan brought the house down with a spectacular 35-yard burst down the centre. Only a desperate clearance by a lone defender saved the day for the visitors.
A penalty converted by lock Waruna Priyanthage increased the tally to 18-5. Quick thinking by the Trinity skipper resulted in Trinity's second try scored by left winger Azver Marzook.
Territorially this was Trinity's game but they made mistakes aplenty and handed the advantage back to their doughty opponents. Isipathana's backs were superb and very penetrative, specially early on. Number 8 Sajith Saranga had a terrific game for the winners.
Early on, it seemed that Trinity suffering from post Bradby depression and end of season blues. To their credit however, they got their act together later. This match was played as a friendly and not as a tournament game.
Referee: Orville Fernando.
Under 12 – 7 all; Under 14 – 7 all; Under 16 trinity won 46-nil.