When will they ever learn?
Last week Sri Lanka's batting star Kumar Sangakkara hit a double century of runs while St. Peter's also took a century of points in different sports, both efforts had a stark similarity. Sangakkara who was looking for a 'big one' going by his own standards, had the Bangladesh bowlers who are fighting against a huge tide on the shopping block, while St. Peter's who are in right now on cloud nine in schools rugby just kept running back and forth planting tries against a rudderless Josephian rugby outfit. Both efforts were rare feats in their given sports, but, the question is if the oppositions are going to be so weak, and are going to lay down without a fight, the general public may lose interest in the game and at the same time, the sponsors who are the 'bread and butter' of any sport may think twice, before they pull their money out of their kitties and pledge it for an effort where the people have lost their interest in.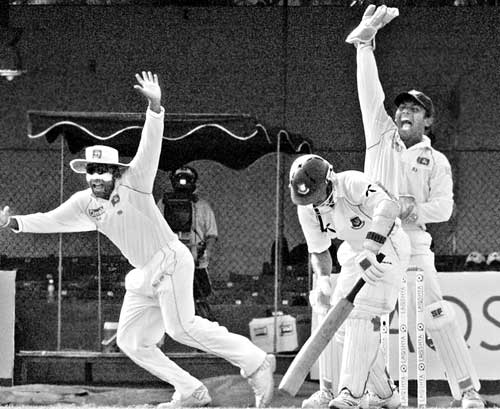 Another Bangladeshi wicket falls exposing their batting inadequacies. (pic by Saman Kariyawasam)
Nevertheless, we will leave the local school rugby on the shelf and take on the bigger and more spectator oriented cricket – especially the discipline of Test cricket which is now facing a huge dilemma of being tucked out of the arena as people are losing interest and the game is becoming an unwatchable bore and the sponsors running away from it like a healthy person would run away from a leper colony.
For instance take the recent Test series between England and the West Indies. Putting them into the present context of Test cricket, one could place them in the bottom slot, but, England took the series without much effort as a result of the West Indian cricket is now in the process of falling into a bottomless pit and are still without a proper plan of getting out of that situation.
Then in the bottom slot is Zimbabwe who opted for a self imposed exile a while ago. Now once again Zimbabwe too are without a plan of how to get out of the situation and even the ICC is not too keen of remedying the situation for reasons of cricket and politics put together. For the time being they can be put to rest as also played.
Now comes the real question at hand. In this cricket crazy Indian sub-continent Bangladesh lies far below the standards that India, Pakistan and Sri Lanka have created. Since playing their first Test match in 2001, Bangladesh, have managed only one Test win against Zimbabwe and since they taken time out of Test cricket we shall not know when Bangladesh could post their second. Yes, for argument sake they may win a freak test against a top Test playing nation on a given date, but, when they would be able to perform shoulder to shoulder against their neighbours is the million dollar question.
Some may argue that nations like Bangladesh do not get enough exposure in Test cricket, but 49 Tests in seven years means that they get an average of seven Tests per year. At the same time the smaller countries should be grateful to Sri Lanka because Sri Lanka is the country which has given Zimbabwe and Bangladesh the most number of Test matches since they have gained full status. For Zimbabwe Sri Lanka has afforded 15 Test matches since they played their first match in the year of 2003 while it was the ninth occasion that Sri Lanka and Bangladesh met at the P. Saravanamuttu Stadium, last week.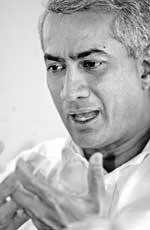 But sadly from the little that I have seen, the majority of their batsmen lack the basic techniques in batting and as a result they can not survive when it comes to the real Test. Yes, some times they will come out and beat a good side like a flash in the pan, but, in terms of real batting skills, they lack it.
Bangladesh upped their profile with a more than adequate performance at the recently concluded Cricket World Cup Competition, but since then they have lost five Test matches on the trot to India and Sri Lanka in a woeful show in the longer duration of the game.
The Sunday Times Musings took time to ask former Sri Lanka opening batsman and much respected administrator Sidath Wettimuny about his views on a Test playing nation who is performing below par at a juncture when the entire Test Match culture is losing interest and is under the threat of being dumped out of the agenda, he said "It's a two sided story. On one side the game has to be nurtured and developed, and at the same time one must also try not to let the standards of the game deteriorate.
However I have heard that Bangladesh is very good at improving their infrastructure and from what I have heard they are even ahead of Sri Lanka in some of the areas. But sadly from the little that I have seen, the majority of their batsmen lack the basic techniques in batting and as a result they can not survive when it comes to the real Test. Yes, some times they will come out and beat a good side like a flash in the pan, but, in terms of real batting skills, they lack it.
At the same time I really feel sorry for their bowlers. I do not think that their bowlers are impenetrative as they are made to look now. But, when a bowling side is repeatedly put under pressure with scores like 89 and 62 they can not perform to their true potential. What I genuinely feel is that some one should take up this cause even at this stage and get some help to improve their batting profile, if not, they may be in serious trouble very soon."
The imbalance in cricket is becoming huge by the day and are growing like the holes in the ozone layer which has formed as a result of the global warming. For instance take Australia. How many teams have managed to take Australia on to the fifth day of a Test match in the recent past. They are perched there on the top comfortably without anyone challenging them one to one on a regular basis.
Then comes South Africa, Sri Lanka, India, Pakistan and New Zealand who would perform well against any of these oppositions if they are playing on their own soil, but, you can be rest assured that there would be an interesting series where the cricket fans would appreciate watching. England's profile seems to be growing, but, their tour of Sri Lanka would be an interesting eye opener of their true capabilities with their new found combination.
Ironically, in spite there being only ten Test playing nations, the disparity between the sides are sometimes too wide and uninteresting.