Ananda College – School Chess Champions 2007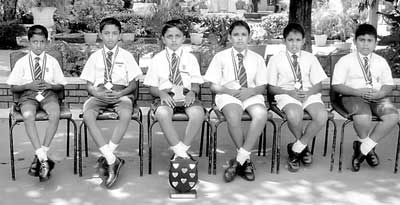 The Anandians who contributed to the school championship award 2007. From Left: Supun Kuruppu, Pasindu Herath, Dinuk Liyanage (Captain), Lahiru Munasinghe, Shanaka Munasinhge and Dinindu Illukpitiya.
Ananda College, Colombo won the All Island School Chess Championship Award – 2007 at the Individual Chess Competition conducted by Sri Lanka School Chess Association held at Jayawardenepura College, Kotte from 22nd to 24th of June.
Ananda College became the champions by obtaining 76 points while Nalanda College and D.S. Senayayake College won the second and third places by obtaining 63 and 62 points respectively.
Dinuk Liyanage won the second runner up award of under 10 age group, contributing 19 points to the school award while Pasindu Herath of the same age group won the 5th place merit award contributing 17 points. Lahiru Munasinghe and Shanka Munasinghe of under 12 age group won the merit awards of 5th and 8th places contributing 17 and 14 points respectively. Under 8 boys, Dinidu Illukpitiya contributed 7 points by winning the 15th place merit award and Supun Kuruppu contributed 2 points by winning the 20th place merit award.