Migration of Ruhuna cricketers was pioneered by Tamil Union
Tamil Union C and FC, enjoys a cherished history in the annals of Sri Lanka cricket. A cricketing legend like late P. Saravanamuttu fought a relentless battle to overcome the adversities that besieged Sri Lanka cricket in that era. Today they are grateful to the likes of P. 'Sara' who achieved its ultimate goal -- to make the one-time marshland into a world renowned international venue. Many contributed to make it a reality. In the past the club was confined to one Race. Cricket was indulged by an elite fraternity. In the late '70 the younger generation of the TU looked at a wider spectrum and opened its gates to all races where cricket was played for the right reasons.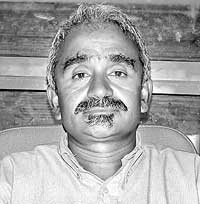 Upul Sumathipala
There was no money (unlike at present) to harness the outstation young talent. No sponsorship packages etc. The TU management had a vision to overcome. They went North and South but failed in their endeavours in the North. They were reluctant to migrate to Colombo for reasons best known to them. Then, they focused their attention to the Southern region. It paid dividends. At the same time it also managed to uplift the image of less affluent cricketers, who were fighting a battle of survival! TU hierarchy was striving to build a permanent bridge for reconciliation via cricket. Today some of them have made the grade at national level.
First in the list is Upul Sumathipala from Mahinda. An outstanding cricketer from 1978, Sumathipala started his career at George Steaurts. Later was introduced to Selva Perumal by Niranjan Withanage. Upul not only played cricket for TU. He says his skills were improved in other areas and made him a man who could live with dignity. Prince Rutnam was the cricket secretary. Besides everything he even looked into Sumathipala's personal needs.
Then came Athula Samarasekera also from Mahinda, following Upul's footsteps. In his first season in the Premier league he scored 1000 runs in the final round. A hard hitting opening bat and a more than adequate medium pace bowler was involved in a record-breaking opening stand of 352, with Josephian Wayne Jansz against the Police which eclipsed the record stand of 351 held by ACM Lafir and HC Felsingher.
Athula was also a member of two World Cup teams in 1987 (England) and 1992 (Australia/New Zealand). He is presently living in Melbourne, Australia. Athula's elder brother A.J., crafty left-arm spinner also turned out for the Club along with Gajaba Pitigala, Dilipa Wickremasinghe (Mahinda). They were followed by cricketers in the calibre of Champaka Ramanayake from Richmond, Promodaya Wickremasinghe, Indika de Saram who were enrolled into their cricketing fraternity. In the early 1990s came Upul Chandana a cricketer who is still keeping the Sri Lanka flag flying high in the international arena.
Tamil Union not only honed their cricketing skills, but also afforded them with job opportunities to build their image and to act with confidence to face the other challenges in life.
Thanks to old Royalist, University and Tamil Union allrounder S. Skandakumar who turned out for the club with distinction and later went on to become the secretary of Sri Lanka Cricket and president of the Tamil Union made it a point that they communicate in English on and off the field. Thanks to his initiative the likes of Sumathipala, Ramanayake and Hathurusinghe etc., have gone places in life.
Interviewed by The Sunday Times Upul Sumathipala said he was thankful to the TU and to Mr. S. Skandakumar. "First, I was fighting a battle for survival played in the Div. II segment. There I played in 3 games and in one of them captured 5 wickets, against SSC. 'Skanda' was the Division I skipper. He groomed me to the top league. I opened bowling with Lakshman Aloysius. I am not shy to mention my difficulties all round – including food. Amiable Skanda found me a job at Colombo Gas Works as a junior executive. This was a landmark in my life. During this year there were more outstation players turning out for TU than any other club in Colombo. I Came out of the dark tunnel. Thanks to 'Skanda' A blessing disguise for coming to know him".
Upul continued I've not forgotten my humble beginnings I owe much to Tamil Union and to Skanda. He even brought my first pair of boots. Late Col. HT Gunasekera who hails from Gunasekera cricketing clan played for Royal. He developed my run-up. Not only me other emerging cricketers from the districts benefited from the club. I captained the club from 1992-'94 and in 1993-'94 won the four-day Super sixes championship. In 1993 we went unbeaten and also won the flood-lit one-day series at the R.Premadasa Stadium. The team had the likes of Tilan Wijesinghe, Suranjit Dharmasena, Damian Nadarajah and Upul Chandana.
"Chandika Hathurusinghe from the outskirts of Wanathamulla, Veluwana M.Vwas yet another player who benefited from the Tamil Union. He joined the club in 1983 on the initiative of his coach late Tom Dep former Bloomfield cricketer.