You've got it, now use it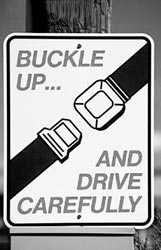 Do we have to wait for strict rules to be implemented to use
seatbelts?
Most of us use some mode of vehicle transport in our day-to-day lives. But do you know how safe it is to wear a seat belt? Unfortunately, Sri Lanka does not have strict rules on passenger and driver seat belt use. Therefore, even though most vehicles imported to Sri Lanka are installed with good seat belts, our drivers or passengers never touch these.
Here are some data obtained from the National Highway Traffic Safety Administration in USA to prove my point. Sixty three per cent of American drivers who were killed in 1996 were not wearing seat belts. According to statistics if 90% of Americans buckled up, approximately 5500 deaths and 132,000 disabling injuries could have been prevented per annum. Males aged 16 to 25 are the least likely to wear seat belts in America. But they are more vulnerable to injury as drunk driving, high speed driving is more common in this age group.
The patient cost, for unbuckled drivers is 50% higher than that of injured drivers who wore seat belts. Children who used the front seat have a very high chance of facing fatal accidents than those who used back seats.
If the driver is not using the seat belt the chance of a child in the same car being buckled up is 24%. If the driver is wearing the seat belt the chance of children being restrained by a belt is 87%.
Almost all lightweight vehicles running on Sri Lankan roads, even the small Marutis have seat belts, but does anyone use them? Better not wait till rules are implemented on seat belt use. After all it's for your own safety, as well as the safety of your loved ones. It takes only 10 seconds to buckle up, but it might take months or years to heal wounds caused by not using the belt. Remember, road traffic accidents are the major killer and reason for disability in Sri Lanka, not the two decade long war.
I would like to finish with the National Highway Traffic Safety Administration ABC rules, Always slide the seat back and sit back!
Buckle Everyone! Children in Back!