Creativity has no boundaries
The 28 young men who attend The Colombo Centre for Special Education, have been very busy indeed, putting their skills to good use in order to ensure that there will be a fine array of art work as well as hand-made products at their annual sale which will be held at the Lionel Wendt Art Gallery on July 18, from 8.30 a.m. to 1 p.m.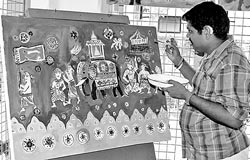 The Chief Guest will be Mrs. Marie Alles Fernando. I spent an illuminating morning at the spacious, secluded premises on Layards Road, watching these differently abled students use the abilities they have, guided by dedicated teachers, to engage in creative work. There are about 50 paintings, collages and wall-hangings, painting on glass bottles, greeting cards, note-paper holders, photo-frames, colourful rugs made of twisted pieces of cloth, neatly-mounted used stamps for collectors and more. Creativity doesn't come easily to those who have to grapple with handicaps of various kinds, but here in this place of warmth and acceptance that is the Colombo Centre for Special Education, adult students are encouraged to discover their talents and are guided to use them well. It goes without saying that special qualities of patience and perseverance are required of teachers and instructors in such a place and it is quite evident that these women and men have established a rapport with their students and take delight in their hard-won achievements. This annual sale gives us, the general public, a chance to see the fruits of their endeavours and to show in a practical way, our appreciation of work well done.
Our presence and patronage on July 18 will surely be the best kind of encouragement their labours can receive.