EPDP, Karuna faction war spreads to the web
By Chris Kamalendran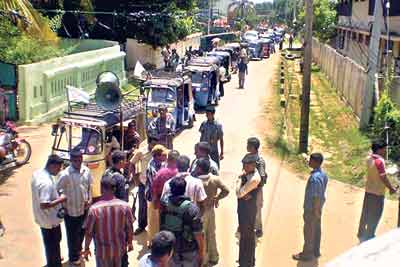 As tension and clashes between the EPDP and the Karuna faction intensified, armed Karuna cadres are seen in Batticaloa town providing security at Friday's funeral of one of their members killed in the clashes.
The Eelam People's Democratic Party (EPDP) and the Karuna faction known as the Tamil Makkal Viduthalai Perani (TMVP) have declared a cyber-war against each other as they prepare for local polls in the Eastern Province. Making full use of their web-sites, the two parties have launched scathing attacks, accusing each other of corruption, extortion of money and harassment of civilians.
The web war is taking place after recent clashes between EPDP cadres and Karuna faction members in the Batticaloa district. One Karuna faction member was killed and his funeral was held on Friday under tight security. The Karuna faction, in a message posted on one of the three pro-Karuna websites, accused the EPDP of imposing a 'jungle law' in some Jaffna islands and trying to do the same in parts of the Eastern Province.
The EPDP website hit back saying it had helped the Karuna faction to enter mainstream politics, but the former Tiger cadres had not "changed their stripes'. EPDP leader Douglas Devananda told The Sunday Times the rift began after he summoned party officials from Batticaloa for a Colombo meeting to discuss plans for elections for nine local councils in the East.
Nominations for elections to these nine councils, including the Batticaloa Municipal Council, had been called some time ago, but the government last week sought cabinet approval for legislation to invalidate those nominations. Fresh nominations are expected to be called soon after resettlement of displaced people is completed and voter registers are updated.
The first major clash between the EPDP and the Karuna faction took place when a group of armed Karuna cadres stormed an EPDP office at Kommathurai in Chenkaladi. Fighting lasted about one hour till the police and army intervened. On Thursday, EPDP and Karuna faction local leaders were summoned to the Army camp and warned to refrain from further violence.
However, hours later the Karuna faction issued notices banning the EPDP from operating in Batticaloa. But Mr. Devananda dismissed the Karuna faction threat and said his party was going ahead with plans to contest the local elections. Meanwhile, residents said Karuna cadres blocked the sale and distribution of the pro-EPDP mouthpiece Thinamurasu in the east.