Saudi death-row girl's family pleads for mercy
By A.T.M. Gunananda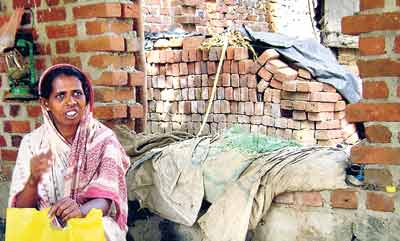 Rizana's mother 33-year-old Fareena said that her daughter was forced to go abroadto alleviate the extreme poverty faced by the family.
Nineteen-year-old Rizana Nafeek went to Saudi Arabia on the 1st of May 2005 to enable her family to overcome economic difficulties they faced at home. She was just 17, but in her eagerness to find employment abroad, she obtained a birth certificate with a forged date of birth to qualify for the job. She also managed to secure a free passage to Saudi Arabia through an employment agency. Her father Mohamad Nashik (38) agreed to send her abroad considering the extreme financial difficulties they were facing at home.
She is the eldest of his four children. A mere glance at their home is proof of their destitution and poverty. A small thatched hut with a leaking roof is what they call home. Nashik has no proper employment but feeds the family on his paltry earnings by selling firewood collected from the jungle. The saddened father said that added to their poverty, they have problems with the 'tigers' too and fetching firewood is therefore limited to three days per week.
He had received a letter 15 days after she left the island in May 2005. It was a tale of woe from start to finish, describing her agony there. According to her family, the child at the house where she was working had died choking on the milk while it was being bottle-fed. The family had then unfortunately implicated her with murder of their child. In a letter sent to her home through the Sri Lankan Embassy in Riyadh, she had informed her family of the incident and stated that a sum of Rs. 250,000/- was required for an appeal. The poor man had to spend over Rs50,000/- to make several visits to the Embassy of Saudi Arabia making twice weekly visits to plead for his daughters release.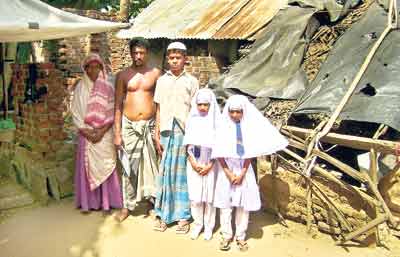 Rizana's family. In the background their dilapidated hut made of oddments varying from wattle and daub to bricks to plastic to zinc sheets which serve as home
According to her parents young Rizana had been forced to look after ten children and she had wanted to change her employer. She had written to them saying that she had been overworked on a daily basis and she had to get up at three in the morning and work till late at night.
Her mother 33-year-old Fareena said that her daughter studied up to grade 10 and was forced to go abroad due to financial constraints faced by the family. She had pinned all her hopes on the girl. She said that she was shocked to hear that her daughter had been implicated in a murder case as she was very innocent and too young to even think of committing such an act. Meanwhile the Asian Human Rights Commission (AHRC) said a close study of the case revealed that what had in fact taken place was the tragic death of a baby in the process of being fed by an inexperienced teenager and not a crime.
AHRC said that there were no indications there was any animosity between the teenaged helper and members of the family she worked for and if such animosity existed it is very unlikely that a four-month-old infant would have been handed over to her care. According to the AHRC, "the inexperience of the helper, as well as the difficulties in communication due to the language problems have ended up in an extremely unfortunate situation where an unfortunate accident is being misunderstood as a crime".