Knight stripped of colour: Women in Salman's life
As Sir Salman Rushdie announces his divorce, a veteran from the British publishing industry offers insights into his women and his psyche
At the dinner speeches after his lavish wedding with Padma Parvati Lakshmi three years ago, Salman Rushdie had noted humourously that each of his new wife's three names was shared by powerful Hindu deities. "Three goddesses in one," he quipped. "How could I pass this up, even if I am an atheist?"
A mismatch of faith seems to have been the least of their hazards. Amidst growing gossip about their essential incompatibility, and talk of Padma's friendship with a married chef, the couple announced their decision to divorce a few days ago because of her wish to end their marriage.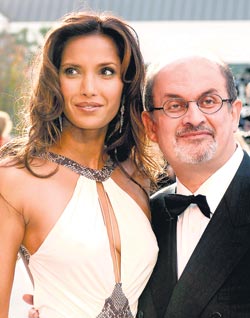 Sir Salman and Lady Padma during happier times
Set against that slightly sad debris, a veteran from the British publishing industry who has known Rushdie well for many years offers taccato insights into Rushdie's emotional and sexual psyche and the women he has loved. Excerpts:
"Apart from Salman's mother and sister Sameen, there have been five "major" women in Salman's life. Wife One: Clarissa Luard, an upper-middle-class Englishwoman, quite "county", safe, well-mannered, with whom he has a grown-up son.
Big Relationship: Robyn Davidson, author of Tracks, good-class Australian, creative, talented, introduced to Salman by Bruce Chatwin. A stormy relationship too visceral for either of them to survive intact, probably the real love affair in Salman's life. Wife Two: Marianne Wiggins, American novelist, intelligent but a fantasist, had difficulties with truth. Ambitious as a writer herself, she recognised Salman's great talent, but their relationship was on the skids before the fatwa.
Wife Three: Elizabeth West, modest, gentle, patient, middle-class English home-maker type who was very important for Salman during the fatwa years. He said of her, "In a time of bad luck, she was my good luck." He has a young son from her.
Wife Four: Padma Lakshmi. Everybody knows what there is to know about her. Almost certainly (in my judgement), she began as an irresistible sexual obsession on Salman's part. In fact, all these five women were, as far as I know, casually met, and the relationships developed by the force of sexual attraction rather than slowly burgeoning affection, respect, etc.
Salman's charm lies in his highly attractive cleverness and intelligence - he's very quick, very funny, very well-educated; I'd say, too, that he is sexually very excitable, and many women would be flattered by his "need" of them."
Padma Lakshmi has indeed often given interviews gushing about how she had never been loved like this before. "Salman is very charismatic," she told one glossy, "I was taken with him before I could even admit it to myself." Not long after their wedding, though, Tina Brown, the high-profile editor responsible for introducing Rushdie and Padma Lakshmi remarked less romantically of them, "Theirs is a marriage of sense and sensibility, though when they met, it seemed a coup de foudre."
Curiously, the divorce announcement is timed such that in social circles that count, Padma will now be correctly referred to as 'Padma, Lady Rushdie' even after her divorce.
Courtesy Tehelka