Together again?
Britain's Prince William back with Kate
LONDON, AFP - Prince William has got back together with Kate Middleton just 12 weeks after they split up, a report said Friday, but a royal spokesman declined to comment.
The Sun tabloid, said the 25-year-olds had now officially put their romance back on track. Rumours have circled for weeks that the prince, second in line to the throne, and his university sweetheart had rekindled their four-year relationship.
They were further fuelled by Middleton's appearance Sunday in the royal box at London's Wembley Stadium, at the Concert for Diana, princess of Wales, marking 10 years since her death on what would have been her 46th birthday.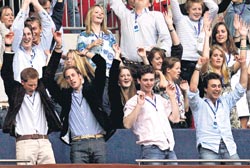 Britain's Prince Harry, left, and his brother Prince William, second left, enjoy the music as Chelsy Davey, left and Kate Middleton, right third row, look on during the Concert for Diana at Wembley Stadium in London, July 1.
Harry and his girlfriend Chelsy Davy were in the front row next to William, while Middleton was a few rows back, though she and William signalled to each other during the sell-out concert. And they were pictured drinking cocktails together at the after-show party. Reports said they then danced together.
"We don't comment on Prince William's private life," a spokeswoman for his Clarence House official residence told AFP. The Sun said earlier this week that Middleton spent the night before the concert at Clarence House, in a carefully-planned operation.
She left her car at a hotel to sneak into the London royal residence and a flunky later drove it through the gates, the tabloid said."William has persuaded Kate that the problems of dating a future king are a price worth paying," said The Sun's source.
"Only when they took a step back did they have space to examine how they really felt about each other." The Sun broke the story of their split in April. They said Middleton wanted more commitment from the prince, while he wanted space to enjoy life in the army.
Cornet Wales, as he is known in the military, is a second lieutenant in the Blues and Royals regiment of the Household Cavalry. He is training to be a troop reconnaissance leader, which would make him responsible for a troop of 11 soldiers and four Scimitar reconnaissance vehicles.
William, set to be king after his father Prince Charles, told US broadcaster NBC News last month that forging relationships was difficult because of his royal status.
"I don't want to be liked by someone just because of who I am. I don't want the sycophantic people hanging around," he said.
Middleton works as a part-time buyer for a fashion company. Her well-to-do middle-class parents made their fortune in the children's party paraphernalia business.
The prince met her in 2001 at the University of St Andrews in Scotland where they shared a flat with two other students. They quickly became inseparable.
They were first seen in public together on the ski slopes at the chic Swiss resort of Klosters in April 2004.