Indian suspects' father speaks out about sons: Report
BANGALORE, Saturday (AFP) - The Indian father of two suspects in the British car-bomb plot has confirmed that a man who rammed a flaming car into Glasgow airport was his elder son, a newspaper said today. Maqbool Ahmed, a retired professor of medicine, told police in Bangalore the family had identified Kafeel Ahmed from video footage of a man being carried to hospital after the June 30 attack, the Times of India reported on Saturday.
"My son Kafeel Ahmed is lying in a hospital with 90 percent burn injuries,"the father was quoted as saying. "My other son, Sabeel is fine and has been allowed to call us every day."Kafeel Ahmed was at the wheel of the jeep which slammed into Glasgow airport terminal packed with nails and gas canisters. The botched attack came after two failed car bombs in central London on June 29.
Ahmed's family was questioned by a police team on Friday for the second time in two days. Sabeel Ahmed, a doctor, is one of the other suspects detained by British police in connection with the attacks. A third Indian, doctor Mohammed Haneef, is being held in Australia after he attempted to fly out on a one-way ticket.
Kafeel Ahmed, who holds a British doctorate in aeronautical engineering, had told his family that he was working on a "large-scale confidential project," the Times of India reported on Friday."It is about global warming. I cannot reveal the details," he had told his family in Bangalore before leaving for Britain in May, the newspaper reported.
"It involves a lot of travelling... the project has to be started in the United Kingdom," he reportedly said. "Various people from various countries are involved in this."The day after two car bombs in London were discovered and defused and just before the Glasgow attack, Ahmed told his family in India that his "earlier presentation failed" and asked them to pray for him, the paper said.
Kafeel and Sabeel Ahmed were "playful boys" who changed after they joined a radical Islamic revival movement known as the Tabligh-e-Jamaat, the Hindustan Times reported on Saturday. The secretary of the Jamia Hazrat Tipu mosque, where the two brothers prayed while in Bangalore, was quoted as saying the pair had tried to influence the clergy and young boys to join the movement.
"As children they mixed with others. But when they joined the Tabligh-e-Jamaat, they picked a fight with some of our members," said mosque secretary Samiullah, who goes by one name. "They tried to expand the group and asked many of us to join them," he said. It is unclear when the pair joined the radical movement. Neighbours described the two boys as introverts.
"Kafeel used to advise me not to smoke, drink or even watch movies," said Afsar, a building contractor who declined to give his family name. "Sabeel had plans to return home and revive a clinic set up by his father,"he added. Sabeel Ahmed studied medicine at Bangalore's BR Ambedkar Medical College.
Kafeel Ahmed studied at the University BDT College of Engineering in Davangere in Karnataka state and then received a doctorate from the Anglia Polytechnic University in Cambridge, according to press reports. They are both reportedly distant cousins of Mohammed Haneef, who went to the same college as Sabeel Ahmed and shifted to Australia from Britain last year.
Haneef's family in Bangalore earlier this week described him as a model family man who was about to fly home to see his infant daughter.
London marks second anniversary of suicide bombings that killed 52
LONDON, Saturday (AP) - Britain marked the second anniversary of the London suicide bombings today, a grim reminder as the country confronted a new wave of terrorism and an Iraqi doctor was charged in the most recent foiled attacks.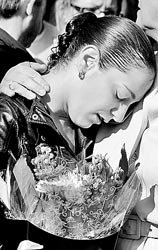 A woman is comforted as she waits to lay a bouquet of flowers in a memorial garden outside King's Cross Station in London, to mark the second anniversary of the London bombings, yesterday. AP.
Bilal Abdullah -- a 27-year-old doctor born in Britain and raised in Iraq -- was to appear in a London court after he and another man allegedly crashed a gas-laden Jeep Cherokee outside the main terminal of Scotland's largest airport.
He is one of eight suspects accused in foiled car bomb attacks in London and Glasgow a week ago. Two cars packed with gas cylinders and nails were discovered in London -- one outside a crowded nightclub, the other near Trafalgar Square. The Jeep Cherokee smashed into the security barriers at Glasgow airport, not far from where British Prime Minister Gordon Brown was born.
Police added patrols around the capital where the first leg of the Tour de France cycle race was taking place today, along with the July 7 bombing anniversary, the Wimbledon tennis tournament, and a Live Earth concert starring Madonna.
''It's amazing that it was two years ago,'' said John Salding, 63, whose girlfriend was amongst the 52 people killed in the 2005 suicide bombings. ''My memories are all so fresh.'' Brown and other government ministers left wreaths at the King's Cross subway station in a somber remembrance of the bombings.
Beverli Rhodes, 46, was on one of the trains when a bomb exploded. She was thrown against a metal pole and suffered brain damage. She says she's still haunted by the bombings. ''I (still) won't go on the underground,'' she said.
The four suicide bombers struck three underground trains and one double-decker bus in 2005, killing 52 people and themselves in an attack with a trail leading back to al-Qaeda training camps in Pakistan. More than 700 people were injured in the rush-hour attacks.
Counter-terrorism agents have foiled several attacks since then in Britain _ a trans-Atlantic airliner plot last August where a group planned to blow up as many as 10 airplanes and the most recent failed car bomb attacks in London and Glasgow.