First State Council begins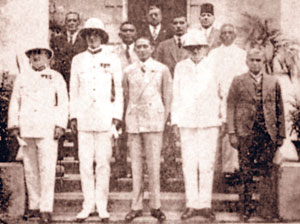 The Board of Ministers with the Speaker, A. F. Molamure
The ceremonial opening of the State Council, set up on the recommendation of the Donoughmore Commission, took place on July 10, 1931. Governor Sir Herbert Stanley read out messages from King George V and the Secretary of State for the Colonies.
Three days earlier, on July 7, the Council had met for the first time and elected A. F. (later Sir Francis) Molamure, Member for Dedigama, as Speaker. His name was proposed by W. A. De Silva (Moratuwa) and seconded by W. T. B. Karaliadda (Matale). He was contested by Sir Stewart Schneider, retired Supreme Court Judge, one of the eight members nominated by the Governor representing the Burgher community. Molamure got 35 votes as against 18 for his opponent.
Subsequently, F. A. Obeysekera (Avissawella) was elected Deputy Speaker and M. M. Subramaniam (Trinco Batticaloa) Deputy Chairman of Committees.
Seven Executive Committees were also appointed. Their chairmen and the three senior British officials known as Officers of State in charge of the public service, financial and judicial matters, formed the Board of Ministers similar to a Cabinet of Ministers. The chairmen were D. B. Jayatilleka (Home Affairs), D. S. Senanayake (Agriculture & Lands),
C. Batuwantudawe (Local Administration), T. B. Panabokke (Health), Peri Sunderam (Labour, Industry & Commerce), C. W. W. Kannangara (Education) and H. M. Macan Markar (Communications & Works).
On the basis of professions, among the members elected to the State Council were 23 lawyers, 13 landed proprietors, two engineers, two retired headmen, two doctors, a teacher, a bank shroff, a journalist and a retired civil servant.
Anagarika Dharmapala dons robes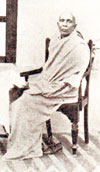 Anagarika Dharmapala as Ven. Siri Devamitta Dharmapala
Anagarika Dharmapala (1864-1933) the great patriot who loved his country and Sinhala nation, donned robes as Siri Devamitta Dharmapala Thera on July 13, 1931. He was 57 years of age then.
For 47 years the Anagarika was in the forefront of many national and Buddhist movements. He addressed thousands of meetings, wrote thousands of letters and published hundreds of articles in various parts of the country. He was a charismatic leader of the Buddhist resurgence and a campaigner for independence in the early decades of the 20th century. He promoted Buddhist resistance to Christian influence and support for traditional culture.
He founded the Mahabodhi Society in May 1891 to revive Buddhism in India and promote it in the West. He successfully agitated to free Buddha Gaya, the place where Prince Siddartha attained Enlightenment, from Hindu control. In December 1894, he was instrumental in planning the first organised pilgrimage by Buddhists in Sri Lanka to Buddha Gaya and other sacred places.
In May 1906 he established the Sinhala Bauddhaya and the Mahabodhi Press. In 1912 he started touring the entire country on a national revivalist mission. After continuous foreign tours on Buddhist missionary work, he visited Sri Lanka for the last time in 1931 and created the Anagarika Dharmapala Trust.
Having become a monk in July 1931, he received higher ordination on January 16, 1933 and three months later he passed away at Sarnath, Benares on April 29. His last words were: "Let me be reborn… I would like to be born again twenty-five times to spread Lord Buddha's Dhamma."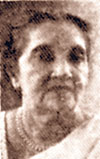 Adeline Molamure, first woman legislator
Following the death of Meedeniya Adigar, who was elected uncontested to the Ruwanwella seat in the first State Council, a by-election was held at which his daughter, Adeline Molamure was elected in a four-cornered contest on July 10, 1931 polling 9,358 votes.
She was the wife of the first Speaker, A. F. Molamure and had the distinction of becoming the first woman legislator in Sri Lanka.