Abuse of Parliamentary privilege making a mockery of the institution of parliament
Parliamentarians jealously guard all the rights they are bestowed with under the Parliament (Powers and Privileges ) Act, which among others, guarantees them freedom of speech and debate along with immunity from being questioned in any Court or place outside Parliament on their utterances made in the legislature.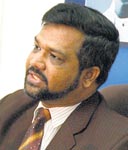 Sripathi Sooriyaarachchi
But does that mean they should liberally abuse these powers and privileges to slander, abuse and hurl insults at each other as well as at those outside? Thus making a mockery of the very institution they entered, thanks to the votes of the people who elect them to office hoping they will make a useful contribution to the country and its people.
The question is pertinent given the fact that some MPs themselves feel stifled by the "unparliamentary" behaviour of some of their colleagues. When JVP MP Anura Kumara Dissanayake said on Thursday that Parliament has become a house of jokers, his sentiments were not different from the general perception that is building up in the country that elected representatives are doing nothing useful, but wasting the tax payers money by using their fortnightly parliament meetings within the Chambers to abuse and hurl insults at each other, rake up personal issues, engage in light banter, go home and collect a sitting allowance for all this as well.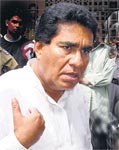 Mervyn Silva
This is precious time they should be spending talking of the appalling state of public transport, the poor conditions of the roads, the shoddy services that people get from the public service and find ways to overcome these problems by working together to improve the lot of the people.
If Deputy Minister Mervyn Silva is present, he makes it a regular point to disturb speakers and he has been getting away with it lightly as well. The free flow of choice words from his mouth seems to be problematic only for the parliament interpreters, who cannot keep up with his language. On Thursday Speaker W.J.M. Lokubandra made an oft repeated request from Mr. Silva to behave in a manner that was befitting an MP, but that is most unlikely to happen.
The fact that the Speaker has a definite role to play in the face of deteriorating standards in the House was highlighted by JVP MP Dissanayake. But as the Speaker himself laments, he is like the man caught between the devil and the deep blue sea. His actions always draw criticism from either one side or the other.
The emergency regulations were approved by a 119 for and ten against, for the 22nd consecutive time. Its true that it is an overwhelming vote for the government, but why few senior parliamentarians, other than Prime Minister Ratnasiri Wickremanayaka, who routinely commences the debate, do not participate in such debates is a cause for concern.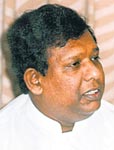 Lakshman Seneviratne
Cross over MP Sripathi Sooriyarachchi speaking from an opposition back bench seat, accused the President's brother and Defence Secretary Gotabhaya Rajapaksa of being behind an alleged plot to kill him using a claymore mine. UNP MP Lakshman Seneviratne said persons in top positions in government had received some of the money that was extorted from abduction victims in recent months. There was no credible person to defend the government on these issues.
Instead they leave it to the likes of Deputy Minister Mervyn Silva who wanted to know why the Government and the UNP cannot get together to fight terrorism when even arch rivals Russia and the UK got together to defeat Hitler during World War II.
It was a good question and if someone else had asked it, it would have been taken seriously. Another Deputy Minister Sarath Kumara Gunaratne used his time not only to abuse former Minister Mangala Samaraweera but also his (Mr.Samaraweera's) father who was a one time SLFP MP.
The UNP does not seem interested in any alliance with the Government at this time. With the two government members on their side, and with persistent rumours that more are to follow, the UNP MPs seem more motivated than before. It is clear that politics of consensus is all but dead in Sri Lanka. Asking even 225 parliamentarians to get together and find solutions to the problems that the people face would be asking too much of them.
Abraham Lincoln in his famous Gettysburg address came out with the often quoted definition of democracy as "a government of the people by the people and for the people". In Sri Lanka's case unfortunately, people elect their representatives with this noble thought in their minds. But soon the tables are turned and what we now have are mostly are politicians intent only on severing themselves. "…Of them, by them and for them," would be a more fitting definition for our style of democracy.