Concert of hope
Karoshee's to sing her own special song of hope, reports Natasha Fernandopulle
An artiste most often tends to be a sensitive person who feels and sees things in a different light, no matter what age or background or race you are from. The same can also be said about 17-year-old Karoshee Vijayasekere who believes "an artistic view on life helps to develop a person."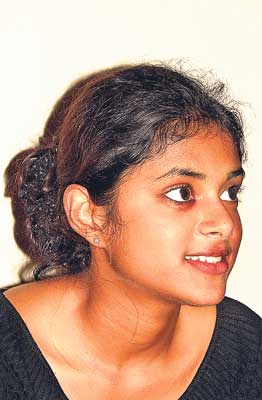 Pic by Berty Mendis
"I really like to help children because they are my peers," she said and this idea has been at the back of her mind from, a very young age. In addition this young songbird has travelled to a number of countries as her father worked for UNESCO and has learnt on her own, about the suffering in the world today, adding, "having been exposed to various cultures made me see life in different ways."
However the real impact of the suffering around her hit her after the devastating tsunami in December 2004. She was in Cuba at the time and she says, "this was a turning point in my life," because it was from this point on that she realised she had to do something, even in a small way, to help those in need.
Karoshee believes that one's talent should not be kept for oneself and should be used to benefit others and "this is how the idea came about where I decided to have a concert so my peers could benefit from my voice."
Going back in time, due to her mother and father both having to work outside Sri Lanka, specifically in France, from the age of four months Karoshee has been out of the country. While living there, around the age of seven she started voice training and singing in the European Children's Choir. When she moved to Cuba with her family she was part of the Cuban National Children's Choir and "all that training helped me to improve my vocal chords," she said.
Karoshee has held two concerts previously and the idea behind it was to form a trust for children and that she has done, by forming 'Karoshee Trust Children.' The word trust, Karoshee's mum explained has two connotations, meaning to trust the child and also that it is a trust and not a foundation.
Karoshee has held concerts once a year since 2005. The first concert of the series was 'HOPE I,' held in Sri Lanka and through the proceeds of which 15 kids who were assisted by the trust and the number has now grown to 95. In addition to this from the original two scholarships in 2005, this year Karoshea managed to give 13 scholarships. In 2006 'HOPE II' was held in Paris and she was trained by Francis Bardot.
"My parents noticed my talent," she said, emphasising the fact that, "everyone has talent," and it's just a matter of tapping into it. People need to help find the talent of each child, says Karoshee, who, in her own way is trying to do just that.
The idea behind 'Karoshee Trust Children,' is to help disadvantaged children be more rounded. There are a number of areas which are covered through the trust for the children in Koralawella, Moratuwa; some of them being, learning English, dancing, values and basically helping them to get through day to day challenges. Later on she would like to take this idea to Batticaloa and Jaffna.
Karoshee considers herself multi-religious and mult-ethnic with her dad being, what he calls himself a "born Buddhist" and her mum a Muslim. This background plays a great role in how she thinks and perceives every aspect in her life and what goes on around her and in fact, "One subject I have learnt is world religions!"
"I like classical music because it stays in you for a long time," this vibrant teenager said, mentioning that her favourite actress is Angelina Jolie for the simple reason that she helps a lot of people. "Because I like to help people, I want to join the UN," she said as she sees this as the best possible way to fulfil this goal. She is currently studying in high school at Ridley College, Canada, and says, "It's going well." She studies a cross section of subjects from Biology to Law saying, "I intend to do my best to excel in them."
The commitment to her music is also evident. Says Karoshee, "I practice everyday before a concert and when I don't have a concert I practice around 15 hours a week." With school and singing, I asked her if time management is hard, in response she said, "if you really want to pursue anything – you can achieve anything because nothing is impossible," she said, adding, "don't just use it (your talent) for yourself – talents are there to be shared and not kept for yourself."
Therefore it would not be wrong to state that this young and vibrant girl is multi-talented because apart from loving to act and sing she is also a school prefect and speaks four languages which include French, English, Spanish and Sinhalese. "When I am in foreign countries I try to promote the image of Sri Lankan talent… the undiscovered talent," she said. "When you become a musician or a singer you become very sensitive," Karoshee said. As a result, "I am very sympathetic towards those who don't have anything."
HOPE III will be a solo concert on Western Classics and she will be covering German, Italian, English, French and two Sinhalese numbers. "I have tried to not make it too classical," she says, because, "I want everyone basically to enjoy it!" The choir of St. Joseph's College will be supporting her as well.
"I want to thank Meneka De Fonseka Sahabandu and Arun Dias Bandaranayake for helping me and they are doing all this for the children," she said. Karoshee's mum added that "Meneka and Karoshee have a lot of chemistry," which helps them bring out a good performance and helps them understand each other.
"I need to share what has made me happy – I needed to share that feeling of happiness with my peers," Karoshee added. "I want to show the children greater opportunities and to give them a light and show them a way," adding that this can be done "if you direct them in a proper course."
The children who have assistance from 'Karoshee Trust Children' were children who needed help after the tsunami. These children between five and 17 years of age, face a lot of hardships in just their day to day lives because they live close to the railway line thus exposing these kids to a dangerous environment.
Interestingly 20 kids from the school will be attending the concert.
After this year's concert she hopes to develop her website says Karoshee who went on to say, "I admire my parents, they inspire me a lot and they help and guide me and this is the way I want to guide these kids."
Hope III is sponsored by Etihand Airways, Nature's Secrets and the Sri Lanka Children's Fund and will be held at the Lionel Wendt on July 3, 2007 at 7.15pm. Ticket will be priced at Rs. 1000, 750, 500 and 200 (balcony) and will be available at the Lionel Wendt.
Anyone interested in assisting these children even in a small way, they are welcome, and can get further details by emailing at niharav@yahoo.fr