Sri Lanka all set for staging Davis Cup
All the preparations have been made for Sri Lanka to host an event which is historic in the annals of tennis. International Tennis Federation (ITF) endorsed Sri Lanka as being fit to host Davis Cup – Asia Oceania Group 3 Tie with the newly constructed hard courts at a cost of Rs. 15 Million. The Davis Cup tie is the first tournament of significance that will use the new courts. This tournament will take place from July 18 -22.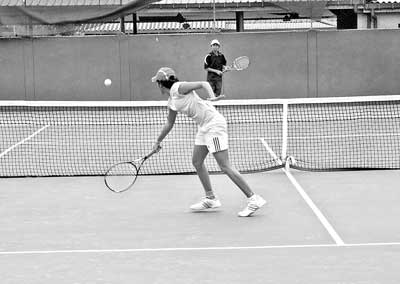 The SLTA Court - Pic by Saman Kariyawasam
Vice President of SLTA and Chairman of the Organising Committee, Vasantha Wijesekera was ecstatic about Davis Cup on Sri Lankan soil; "We are delighted to be hosting the Davis Cup here in Sri Lanka and are particularly proud that the International Tennis Federation endorsed Sri Lanka being a suitable venue. The SLTA team has been working round the clock to put the required facilities in place," he expressed.
"The Davis Cup is the only men's team competition in the world. The Grand Slam events like Wimbledon & US Open are more famous, but players play only for individual honors and big prize monies – not for bringing fame and glory for the country. Davis Cup competition is unique in that sense as players play for their country".
President of the Sri Lanka Tennis Association told The Sunday Times that the host countries players had been given expert training and the aim was to qualify to Division Two of the Davis Cup. The Lankans will face stiff competition from the rest of the teams which comprise of Singapore, United Arab Emirates, Vietnam, Lebanon, Malaysia, Oman and Saudi Arabia
Sri Lanka has been putting a commendable performance in Davis Cup competitions and this time is no exception. High ranking players such as Harshana Godamanna, Renouk Wijemanne and Rajive Rajapaksa are expected to keep the Sri Lankan flag flying high. They are undergoing intensive training in Bangkok under Swiss Coach Dominik Utzinger, who was also responsible in training Roger Federer.
The Lankan team is led by the dynamic Rohan De Silva. De Silva is the most experienced Sri Lankan Davis Cup player and has been working hard in squad training under Coach Ganendran Subramaniam. Ranil Harshana has been looking after the physical training aspect.
The hosts also have Sanka Atukorale and Dinusha Wijesuriya in their ranks with the latter being the reserve.
Sri Lanka is scheduled to return from Thailand on the first of next month and will continue their training on the new hard courts.
The principal local sponsors for the event are Diesel and Motor Engineering Company Ltd together with a host of others while media partners are the Wijeya Newspapers Ltd and MTV/MBC electronic media. Chairman of DIMO, Ranjith Pandithage said he was happy to be part of a long tradition of sport and the Davis Cup exudes excellence in sport that also reflects the culture of DIMO.