Over 21s vote for the first time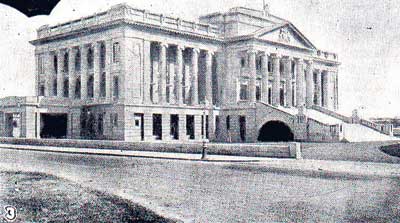 The State Council met in this imposing building at Galle Face. Today it houses the Presidential Secretariat.
The month of June is of significance in the constitutional development of Sri Lanka. It was on
June 13, 1931 that for the first time, the country went to the polls on the basis of universal adult suffrage. Both men and women over 21 years of age had the privilege to vote to elect members to the State Council which replaced the Legislative Council after seven years, following the recommendation of the Donoughmore Commission.
There were fifty constituencies and the number of registered voters was 1.5 million (1,577,932) of which 978,548 were men and 599,384 were women. One hundred candidates contested 37 electorates, nine were uncontested and four in the North boycotted the election. Talawakelle had six candidates – the largest number contesting a single seat.
The election was not fought on party lines although most candidates had party affiliations. The voters voted for individuals. There were at least three parties at the time. They were the National Congress, the Liberal League and the Labour Party. Another feature was that in more than one constituency, members of the same party opposed each other. For example, two ex-presidents of the National Congress – George E. de Silva and A. C. G. Wijekoon – contested the Kandy seat. In Udugama three out of the four candidates were members of the Congress. On a party basis, 22 of the 100 candidates were from the Congress and 20 from the Liberal League. Six were from the Labour Party. There were 50 independents.
Having got the right to vote, around 45% of the registered voters used the privilege when 706,723 went to vote.
For easy identification, the candidates were allocated colours. The ballot boxes were painted in three colours so that those who could not read or write could vote for the candidate of their choice without any embarrassment. The candidates could display flags and buntings and wear ties of their allotted colour. The wives and female supporters provided a flash of colour when they wore clothes in the colour of their candidate.
The first day of the election – June 13, a Saturday, saw voters in 16 constituencies including the three Colombo electorates going to the polls. The election was spread across seven days - June 13 – 20 with no voting on the Sunday in between.