Peace through camaraderie in business
It was camaraderie and friendship all the way when entrepreneurs from six different districts, with diverse backgrounds met each other to interact and learn from each other's experiences at the interaction programme between the Eastern chambers and the Networking Business for Conflict Transformation project (FLICT project) partner chambers in Galle, Kalutara and Kegalle, held in Galle.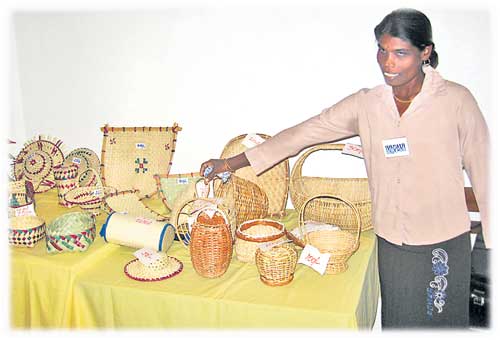 One of the participants
In a bid to give a better understanding of the project to the three selected Eastern chambers at Ampara, Batticaloa and Trincomalee, while obtaining feedback from the eastern chambers pertaining to the FLCIT project activities and approaches and incorporate them with the ongoing project, the Business for Peace Alliance (BPA) coordinated the programme.
I.R.A. Chandrasena, Director, Kegalle Chamber of Industry said that experiences of Kegalle, Kalutara and Galle chambers were elicited to the other three chambers, while future such workshops were also discussed. "The most important thing that I will take home is that there was visible goodwill and harmony amongst everyone who interacted," he said. Chandrasena who is in the clay pot manufacturing business had also met many business contacts.
Wasantha Kumar, CEO, Ampara Chamber of Commerce said that he is looking forward to a similar programme being implemented in Ampara, Batticaloa and Trincomalee.
He said that the programme promoted the inter district product awareness (East Vs FLCIT partner districts) through product promotion at the exhibition, which was a good experience.
"This programme also motivated the Eastern chambers to develop a similar project considering the social, political and economic situation of the East," he added.
Manique Mendis, CEO, BPA said that the expected outcomes of the programme was to have constructive feedback to improve the present activities that are carried out by partner chambers and BPA staff.
"This was also done in a bid to promote inter- district product awareness through local product promotion," she said adding that FLCIT partner chambers and BPA staff identify their role to develop existing project in current implementation areas and how to support the Eastern chambers when they develop a similar project.
A.A.S.C Wickramasinghe, owner of Sakura Marketing Services which is in the mushroom business, said that he developed useful business links that he had always wanted at this workshop. "I am attached to the Ampara Chamber of Commerce and when I came to this workshop, I did not have many business contacts, but now I have them in various places in the country," he said, adding enthusiastically that these business links has helped him to get a new lease of life.
"Now I can produce more of my stock as I have come across buyers," he said. He had also made contacts to find raw materials at a cheaper price.
Luxman Walpitagamage, Vice President, Galle District Chamber of Commerce said that what he saw at the workshop was friendship amongst the North-Eastern and Southern Entrepreneurs. "This is a very effective way to improve our business relationship as well as friendship. This is a novel initiative to avoid racial disharmony," he explained.
H. Mervin, Chairman Galle District Chamber of Commerce and Industry, who were the hosts of this programme, said that if there is a conflict, the first people to be affected are the entrepreneurs.
"We will have curfews, etc and our margins will get hit badly. This is the main reason that such initiatives to promote peace are important to the business community," he explained.
He said that the Galle District Chamber, which has 700 members, is not dependent on partisan politics. "It is stipulated in our constitution that we need to have representatives from Tamil, Muslim and Sinhala communities in the director board," he explained. Mervin said that some members for the Galle chamber have already established business links to Ampara and Batticaloa.
Luxman also said that orders to bring rice from Trincomalee and Ampara to Galle were established. P.L. Thajudeen from Ampara said that handloom saree orders from Ampara were secured by Galle and Matara entrepreneurs.
Bandula de Silva, Director, Kalutara Chamber of Industry said that a good network of both business and friendship was established at the workshop. "People we had never thought as important became strong business contacts as well as our close friends," he said.
K. Thiruchelvan, from Trincomalee who is in the rice mill and fertilizer business said that he benefited from different experiences of the participants.
"How to handle projects and how to manage conflict situations in business was an important area for me. We can apply these experiences to our everyday lives in business," he said.
S. Indrani, who had not left Batticaloa for the past 20 years, said she made contacts for her business in cane products. "Now I can expand my business," she said, adding that she learnt how to build her contact base.
"This is a very good way to promote peace through business relationship," she added.
P. Ramesh, Project Officer, Batticaloa Chamber said that the four members from his chamber received some orders for their respective business. "Most important was the friendship, the marketing links and business techniques they got from the other chambers," he said.
S. Pensiliya from Batticaloa, with a business in manufacturing toys said that the role of the business community in peace building and conflict prevention activities was an important area that she enjoyed at the programme.
"The district presentations about achievements through the project where each district made a 15 minute presentation was very interesting," she said.