Global Battle Of the Bands (GBOB), the band version of popular 'American Idol' will come alive in London UK on December 10. For the first time in the Sri Lankan western music history, Sri Lanka is eligible to send their entry to this mega international world class competition. This will be a life time opportunity for Sri Lankan musicians, who create original material.
The Global Battle of the bands popularly known as GBOB (www.gbob.com) has chosen Sri Lanka as the first participant in South Asia, thanks to the hard work put in by 'Talent Syndicate' and of course convincing the international organizers that Sri Lanka is a country flowing with potential.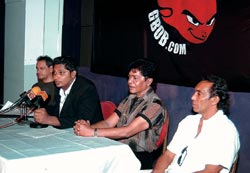 Shean with Aruna Siriwardena, Raj Seneviratne and Keerthi Fernando
GBOB Ltd based in the UK organizes this event every year to give opportunity for musicians and bands to come together from all over the world with 'Original' compositions and songs. A band will be selected from the national qualifying rounds and finals to represent Sri Lanka in the world finals which will be held in the United Kingdom. The national competition will be organized by 'Talent syndicate'.
'Sri Lanka has been producing a large own compositions, lyrics and songs, with no scope to be exposed nor be recognized for their talents as composers, songwriters or performers' said Shean Dharmaratne, the Director of 'Talent Syndicate' at a press briefing lat week. Any band with original music is eligible to enter into the Sri Lanka leg of the Competition.
The first round of performances will be held at the ONYX (formerly known as My Kind of Place) of Taj Samudra hotel on 19 June. All competitors should submit their material to the UK based organizers through web. The selection of the band will be through a way of performances in front of qualified judges, under the supervision of 'Talent syndicate'.
'Still I do not want to reveal the name of the judges but it will be a panel of professionals in the field of music' Shean said. The winning band will get the opportunity to represent Sri Lanka with the rest of the bands from more than 30 countries, at the finals in UK. The Sri Lankan leg of the competition will be handled by 'Talent syndicate' under the professional guidance of top musicians in the country.
Veterans Raj Seneviratne, Aruna Siriwardena (of Jetliners fame) and Keerthi Fernando of Rattlesnake and Venom fame will work as a team helping Shean in his talent scout project. Being a performer, songwriter himself the creator of 'Talent Syndicate' Shean Dharmaratne is the first musician to win an International Award along with a live band. He strongly believes that western music can be a very good industry which could bring in foreign exchange to Sri Lanka.
'Thus in the future, an export of rich talents from our island could be seen if talent is supported financially, managed and promoted. This is what 'Talent Syndicate' is striving to achieve' he added.
'Our representation at GBOB will be in the website accessed by millions, and each registered band from any country gets to submit their material to the website for industry agents and talent scouts perusal, which could lead to opportunity for any of our registered contesting bands to get signed up for a record deal (win or lose). All British newspapers will do coverage of the world final' Shean explained about GBOB. We at 'Talent Syndicate' believe that a selected band from Sri Lanka has a very good chance of coming in the top three in the World finals in UK, which will be a stepping stone to promote Sri Lankan Talent world wide' he said.