Treating beauty tenderly
How does one begin to choose from the gamut of beauty therapies that are available these days? Sandya Liyanaratchi believes she has an answer.
"We use serum in our treatments," states Sandya adding that one need not resort to drastic measures such as surgery, Botox or laser that use equipment and machines. At her recently opened salon, serums made by Singaporean Charmé Cosmetics using German Rapid Delivery System (RDS – Nano technology) are used with remarkable results, she says.
"The products are gentle on the skin and designed to suit all types – sensitive, normal, oily or dry," she explains. Containing no paraben, artificial preservatives, artificial colouring or alcohol that can cause allergic reactions, the expensive serums are made from roots of certain herbs grown only in Thailand.
Among the treatments Sandya specialises in is the Face Lift for ladies in their late 30s or over 40s. Needless to say, each person's skin is different. Consequently, some age faster than others with lines appearing around their eyes and mouth. "Our face lifts can guarantee a smoother, even skin and visible improvement in firmness with reduction in fine lines within days," Sandya says.
The lifting effect it appears will be permanent after complete treatment – the number of sittings around six or less depending on how recent the lines are. "But there will be a noticeable difference – a more youthful appearance soon after the first treatment," she adds.
Among Asian women, pigmentation is quite common. This is addressed in the pigmentation treatment that lightens marks on face and neck, restores the water-lipid balance and removes age spots giving back to the skin its suppleness and glow.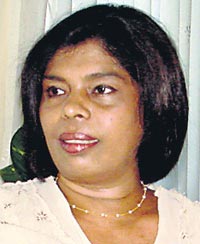 Sandya
Liyanaratchi
The whitening treatment targets sunburn, uneven skin tones and patches that sometimes appear on either sides of the mouth. The treatment erases signs of past damage while protecting skin from future harm, making lines fade and improving skin texture and radiance, she says.
Another concerns among middle-aged women are sagging breasts. Breast enhancement – the natural way is done using Charmé breast serum.
"Our beauticians have received specialised training for all our treatments in Singapore," Sandya explains. The serum is applied to the skin soon after a cleansing routine and a special technique of massage allows the serum to penetrate into the skin and work its magic.
Other treatments offered at the salon are facials, cleanups, waxing of arms and legs, spa manicure, spa pedicure with therabath and massage. Therabath involves a paraffin wax treatment for tired and overworked hands with dry skin.
A trained beautician, Sandya happened to be in Singapore when she was introduced to the scientist who invented the Charmé products. "I couldn't believe what I saw," she says, resolving to bring it to her country. "It is certainly a challenge to me to offer such personalised treatments in a relaxed atmosphere without injections or surgery."