Recognizing Gingivitis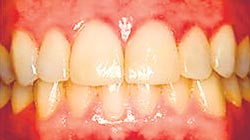 Gingivitis, or inflammation of the gums, is a form of periodontal disease that's caused by the long-term effects of plaque deposits. Plaque that isn't removed by brushing and other forms of dental care forms a hard deposit called tartar where teeth meet the gum line. Plaque and tartar can cause the gums to become infected, swollen and tender.
The U.S. National Library of Medicine lists these common signs that you may have gingivitis:
Understanding ALS
Amyotrophic lateral sclerosis (ALS), also known as Lou Gehrig's disease, is a progressive disease that gradually causes its victims to lose control of their muscles. It's eventually fatal.
According to the U.S. National Institute of Neurological Disorders and Stroke, symptoms usually start as a gradual weakening of the muscles. People with ALS usually lose control of their arms and legs, and finally the muscles in their chest, which causes them to stop breathing.
There is no cure, although treatments may be prescribed to improve quality of life and reduce some of the discomfort and symptoms of ALS, including pain, depression, and difficulty sleeping.
How does an Epidural work?
An epidural analgesia, commonly called an epidural, is a method of pain relief often used during childbirth. According to the Childbirth Connection, an anaesthesiologist or nurse anaesthetist will first sterilize an area of the back. A needle is then inserted into the epidural area between the spinal cord and the membrane that protects it. Then, a catheter is inserted and the needle removed.
The catheter will allow a numbing anaesthetic, sometimes narcotic, into the spine and prevent the woman from feeling pain during childbirth. The anaesthetic is typically administered regularly by an automated pump. The epidural may reduce the woman's ability to push, which may prolong childbirth.
- HealthDay News