Swinly excels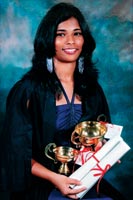 Swinly Perera emerged the All Island winner for LTCL (Recital) Vocal having passed with Distinction and also won the Special award at the Trinity College, London prize giving for the year 2005 held recently.
Swinly was a student of Ms.Ruwani Seimon. This is her latest achievement in a string of accomplishments in the field of Music which began at the tender age of six.
Swinly released her debut CD both vocal and instrumental at the age of 14 which included performances on several instruments, including tracking and balancing on her own.
An old girl of Bishops College, Swinly is a founder member of the 'Brass Monkey Band' and won the title of 'Outstanding Musician of 2004' at TNL 'On Stage'. Currently she is doing her degree in International Business and Commercial Law, in Melbourne.