'I love to show my film to Sri Lankans' : BAFTA winner Asitha Ameresekere
By Susitha R. Fernando
"I wanted to subtitle my film into Sinhala and Tamil and I would love it to be seen by the people of my country," says BAFTA awarded Sri Lankan filmmaker Asitha Amerasekere who came to the country on an invitation to conduct a seminar at the Business Leaders' Summit- 2007 in Colombo this week.
The winner of British Academy of Film and Television Arts (BAFTA) for his 29 minute film 'Do not Erase', Asitha's love of storytelling has led him to make films, music videos and stage plays."Film is very immediate, powerful and of short duration. That is why I like cinema," says Asitha.
Born in London and regularly visited Sri Lanka, Asitha studied here for sometime. "I have got some friends here," he added. In 2005 Asitha worked as a teacher at the British Council of Colombo. While developing his next short film in addition to writing two feature films and a novel, Asitha is preparing to publish a collection of his short stories, 'Wedding Gifts and Other Presents' shortly in Colombo.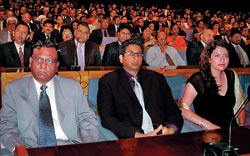 Asitha at the Business Leaders' Summit- 2007
"It is just not only the film that is my interest. When I have a story I think in form it should be presented, novel , short story or film. And you know the technology today. You can make a film by yourself with what you see and edit in your own computer. It looks great. That's only happened over the last ten years. In that way everyone can be a filmmaker. The trouble with that is a lot of rubbish comes out,"
Asked what matters most when it comes to a film, Mr. Ameresekere mentioned the emphasis on the story and how you present it.
Relating the backdrop of 'Do Not Erase', "In 2003 for the first time British Forces went to Iraq. There were a lot of families whose children aged as young as 18 and 19 years fighting in an unknown land. I began to think what these families were thinking about their children fighting thousands of miles away. But they did not know much about what was happening. But later Tony Blair admitted it was a lie and that they went to war with a lie. I wanted to depict what happens to the family when they miss their children," Asitha elaborated.
"It is not just a British family. It could be any family. Subconsciously I was thinking about Sri Lanka as well. It is every part of the world. And in many countries you come across similar situations," Asitha says. Inquired as to what was the initial response to his film "Initial response was that I had to wait for 7 months and it was rejected by several festivals until it garnered the audience award at Hamburg in Germany,"
Did you ever think that you would get such response? "To be honest I thought I would get a response from Britain or may be from America. But they rejected. But for Germans it was very important. It won three awards in Germany. One country like it and another country completely rejects it"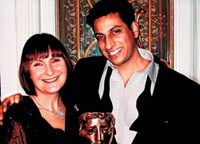 Asitha with main actress Jeanette Rourke winning BAFTA in last
The nomination at BAFTA, which runs up to the Oscar itself was great. Just the nomination was enough. As soon as we got the nomination I received a call from Spielberg's company Dream Works, Leonardo de Caprio's company, Hollywood and other European production companies.
"So we went for the ceremony but of course we won it" says Asitha.
But for me it is the journey of going for the award which was more important. All the other films were funded by UK Film Council where as I did mine. However Asitha says the main thing for him was an audience seening the film.
'I would love to screen it in Sri Lanka. And I love to get it subtitled into Sinhala and Tamil. I also want to give it to British television". 'When we make a film we must share it. And for short films it is very difficult' Asitha said declaring his motto.
Referring to other filmmakers who had reached international heights Asitha mentioned Dr. Lester James Peries and other filmmakers introducing Sri Lanka to the world.
'Young filmmakers like Vimukthi Jayasundara are doing wonders for Sri Lanka'. Inquired about the criticism by their countries on filmmakers who win awards internationally, Asitha replied "Any filmmaker is either hated or loved by the people. It doesn't matter whatever it is,".
'Sri Lanka with its beatuful location is a paradise for filmmakers' he stated.