Kandy wins after nasty Police scare
What was expected to be a massacre of the innocents at Police Park yesterday turned into a dour battle. In the end Kandy SC, the reigning champions, had to be satisfied with a 29-10 win over Police in the Caltex A Division rugby game. Kandy's points came off 3 goals, a try and 1 penalty while Police had a drop- kick and a goal.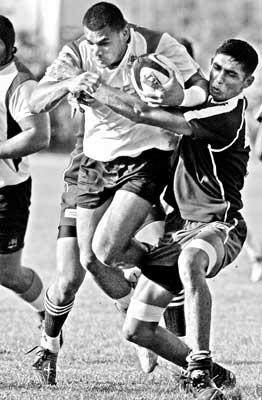 Kandy started their forward march in Colombo too. - Pic Ranjith Perera
Police who were at the receiving end of massive scores at the hands of CR and suffered a defeat to CH after flattering with a win against Havelocks this season, seemed to have kept up all their energies to tackle Kandy SC yesterday. If their three-quarters had been sharper they could have scored at least twice and perhaps could have even toppled mighty Kandy.
Kandy on the other hand rested three of their key players giving preference to youngsters.
Kandy's powerful forwards were held at every turn by the Police eight except in the line-outs where Kandy's Imran Bistamin was prominent.
Kandy opened scoring in the third minute through Mohammed Jabar. Undettered Police replied with a Priyantha Pradeep try converted sweetly by Wijeweera and for a few dizzy minutes Police led 7-5. Police sailed further ahead with a Wijeweera drop-kick and Police led over champs Kandy at 10-5.
That is as far as the Police scoring went. Slowly but surely Kandy tightened the noose around Police. Dushan Lewke scored next off a ruck and Saliya Kumara kicked correctly to put Kandy ahead at 12-10. Kandy were awarded a penalty try next and Saliya Kumara was on target to put Kandy firmy ahead at 19-10 at the breather. Former Sri Lanka skipper Sajith Malikarachchi was sent to the sin-bin in this half.
Kandy kept on the pressure through a 30 meter penalty by Eranga Weerakkody to lead 22-0 despite some spirited play by Police.
Slowly but surely Kandy kept on climbing the ladder with a Pradeep Selvamtry try with Eranga Weerakkody being on target with his conversion (29-10). In a desperate attempt Wijeweera converted a 30 meter penalty in the 43rd minute and Police reduced the lead to 29-13 at the long whistle.Referee: Orville Fernando
DIG (Traffic) R.M. Lafir, a former Police and Vidyartha rugby skipper was the chief guest.