De Mel vs IC rift gets wider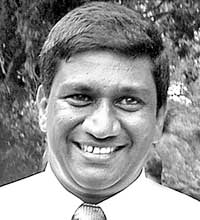 Asantha De Mel
The rift between Sri Lanka's Cricket Interim Committee and their chief selector Asantha De Mel grew wider when the former forwarded a fresh set of names to the Minister of Sports Gamini Lokuge for ratification as selectors sans the name of de Mel.
The new set of names includes three of the former selectors – Don Anurasiri, Shabir Asgerally and Amal Silva. Some of the names added to the list are --- Jayantha Seneviratne, Mahesh Gunatilleke, Ashley de Silva, Graeme Labrooy and Ranjith Madurasinghe.
It is learned that the Cricket IC in spite of knowing that the Minister of Sports eventually would include the name of de Mel to the list, kept it out just to show their displeasure on the person who slammed the IC for undertaking Sri Lanka disastrous three match off shore tour to Abu Dhabi where the World Cup runners-up lost to Pakistan a few days later.
Last month the cricket administrators sent a list of names to the minister for ratification minus de Mel's name as the life span of the previous committee that De Mel headed came to an end on the 31st of May, but, the minister ignored it and extended period of the incumbent committee by another two months until the end of July 2007. Meanwhile Asantha de Mel speaking to The Sunday Times admitted that he had seen the list of new names and added "its okay with me if they feel that they do not need my services". However when confronted with the question on what he would do if there is a request by the minister asking him to continue as a selector de Mel answered "I feel that still I have something left in me to contribute towards the game and if I get an invitation I will give serious thought to it. But, anyway if I am going to continue I will only sit with a panel that is fit to occupy those positions".
Speaking on the issue to the French News Agency AFP minister Lokuge said "I did receive a list sent by Sri Lanka Cricket (SLC), but Asantha de Mel's name is not in the list, I have time till end July to make the final decision,I shall see what I should do then".
It is also learned that the present New South Wales coach Trevour Bayliss is due in Sri Lanka this week to meet the Lankan panel who are sitting to make the choice for the next national cricket coach. It is that Bayliss who is highly recommended by former Sri Lanka coach Tom Moody is very likely to get the nod of approval.