Dilhara shapes Asian win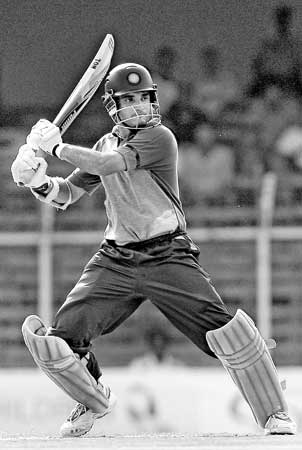 Sourav Ganguly who top scored with an elegant 88 plays a shot during the second One Day International (ODI) match of the Afro-Asia cup between Asia XI and Africa XI at the M. A. Chidambaram stadium in Chennai yesterday AFP
A fine 111 ball 88 by the former Indian skipper Savrav Ganguly and a sustained piece of medium fast bowling by Sri Lanka's Dilhara Fernando (4 for 36) saw the Asian Xl set up an unimpressive 2-0 series win over under strength African Xl, when they beat the latter by 36 runs in Chennai.
Chasing the strong Asia Xl's total of 337 for 7 made in their allotted 50 overs, the African Xl were all out for 306 in 49.5 overs.
Taking the first lease of the crease on a flat pitch the Asian Xl raced to 337 for 7 with Virendra Sehwag and Mohammed Yousuf making half centuries besides the anchor innings played by the once deposed Indian veteran Ganguly. Skipper Mahela Jayawardena also came up with a worthy contribution of 45 runs while Yuvraj Singh gave the final touches to the total chipping in with a 13 ball 30.
Facing a tall order of 338 to square the series, Africa lost 3 wickets for 152 at the halfway stage, once again leaving the middle and lower order to resurrect the chase. While the required rate was within reach, the pressing issue was wickets in hand, with big partnerships the need of the hour. Noteworthy innings came off the bats of Mark Boucher and Bothe Dippenaar who made 73 and 67 respectively, but, with their departure the run hunt became much stiffer as wickets kept falling at regular intervals.
Sri Lankan Dilhara Fernando who was overlooked for the first match bowled best for the Asian Xl banging the seam hard on the lifeless Chennai wicket and at times had the African batsmen hobbling around with some sharp lifting deliveries.