Royal draw first blood
It was robust, rousing, rib-bruising rugby, spiced with dashes of sizzling running by the back divisions as Royal took a couple of uncertain steps towards winning back the Bradby by beating Trinity by 20 points (1 goal, 2 tries, 1 penalty) to 12 (1 goal, 1 try) at a comfortably full Bogambara Stadium yesterday.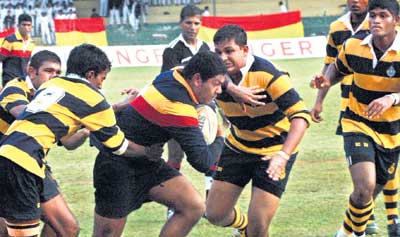 Royal defence is about to swoop down on a Trinity player who is looking for a break
At lemons, the Royalists, who totally dominated the opening half, had run up a handy 8-0 lead. The visitors enjoyed an abundance of possession, especially from the lines out, and it is to Trinity's credit that they, for the most part, withstood the unceasing waves that came at them.
A Shailendra Chandrasekera penalty in the opening minutes gave Royal the spur to launch their attacks. Winger Asif Hassan, who was one of the stars for Royal, made a break and took play ten yards from the Trinity line. Bilal Hassan then tried to bulldoze his way through, but it was prop Nikira Senanayake who touched down (8-0).
A Shamir Zameer break threatened the royal defence, but the move broke down when the ball was spilled.
Royal retaliated pronto when Asif Hassan took an inside pass and sent the ball out, but winger Duminda Attygala stepped out into touch on his way to a try by the corner flag.
Trinity was mostly on the defensive as they tried desperately to stem Royal's advances. The latter spilled the ball on at least two occasions – opportunities that may have ended in tries.
Eager-beaver Trinity scrum half Adil Hameed caught the eye with his opportunism and his well slung-out, long passes. Asif Hassan, Royal's winger was a constant menacing threat in both attack and defence.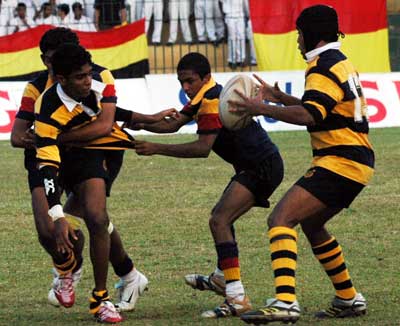 A Royal player passes the ball out as he is held back by the Trinity defence - Pix by Saman Kariyawasam
There was a fight back of sorts by Trinity just before lemons. A sweeping move in which winger Shameer Zameer and lock Minindu Gunawardena played their part broke down and Chandrasekera drove Trinity back with a long relieving kick.
The Lions got on the board early in the second half with a dandy try by full back Lasantha Sanmarawickrema. After being fed with a pass 40 yards out, he ran along the line, cut in and then weaved his way through a few Royal defenders who failed to tackle him, Siegertsz added the extra points (8-7).
The lead was a mere point and both sides now went at it hammer and tongs. Bilal Hassan took centre stage once more when he crashed his way through and then gave out to the omnipresent Asif Hassan to score by the right corner flag (13-7)
A long boot was applied by Trinity and play was concentrated near the Royal goal-line.
Royal's defence held for a few minutes, but caved in under relentless pressure. Number eight Jazeer Hassan managed to inch his way over the line. With Trinitians young and old on the edge of their seats, Kirinde's kick from a point close to the left touch line was awry and Royal hearts beat easier (13-12).
With time running out, one more scoring effort was needed by either side.It was Bilal Hassan who put the icing on the cake, when he picked up the ball, weaved and danced his way through a slightly bemused and an unsuspecting defence. Duminda Attygala added the finishing touches for Royal to claim the first leg of the 63rd edition of the Bradby.
Eight points represent two scoring efforts and Trinity will feel that all is not lost. However, what they could not achieve in their mountain fastness now becomes doubly difficult in the cauldron that is the Royal Complex on June 23.
Referee Dilroy Fernando.
Under 14: Royal won 28-0; Under 16: Trinity won 32-0; Under 18: (C.N. Simithraarachchi Trophy) Trinity won 15-0.