Iraq protests Turkey's cross-border shelling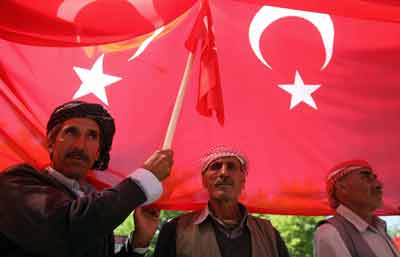 Men in traditional Kurdish dress attend a state-sponsored protest against Kurdish separatist rebels in the town of Sirnak in the mainly Kurdish southeast Turkey yesterday. Reuters
BAGHDAD, Saturday (AP) - The Iraqi Foreign Ministry today issued a formal protest to Turkey over the cross-border shelling into northern Iraq. A statement said Deputy Foreign Minister Mohammed al-Haj Mahmoud had summoned the Turkish charge d'affaires and called for an immediate halt to the shelling, saying such actions ''undermine confidence between the two nations and negatively affect their friendship.''
The statement was the first government confirmation of the shelling. Mahmoud said the shelling had started large fires and caused serious damage, but gave no other details. Turkey has been building up its forces along the border with Iraq, and its leaders are debating whether to stage a major incursion to pursue separatist Kurdish rebels who cross over from bases in Iraq to attack Turkish targets.
The Iraqi Foreign Ministry also reiterated the government's opposition to the presence on its territory of the separatist Kurdistan Workers' Party, also known as PKK, and said it considers the rebel group to be illegal. ''Iraq would like to take this opportunity to declare its resolve to cooperate with Turkish authorities to allay Turkey's legitimate fears through a constructive dialogue and positive cooperation,'' said the statement.
Turkey has an ambassador in Iraq but he was not in Baghdad so the charge d'affaires Ahmet Yazal, was summoned. Meanwhile, a parked car struck a convoy of Iraqi police commandos and gunmen opened fire on police on foot patrol in a mostly Shiite neighborhood in Baghdad today, police said, a day after gunmen stormed a senior Iraqi police officer's home northeast of the capital. The car bombing, which occurred about 9 a.m. in Baghdad's northeastern neighborhood of Shaab, killed one Interior Ministry commando and a pedestrian, while six commandos and a pedestrian were wounded, police said.
It came about 90 minutes after gunmen in a speeding car opened fire on police on a foot patrol, killing one officer and wounding another, a police officer said, speaking on condition of anonymity because he could also become a target. On Friday, dozens of gunmen swooped into the home of Col. Ali Dilayan al-Jorani on the outskirts of Baqouba, in Diyala province 55 kilometers (35 miles) northeast of the capital, according to officers at the provincial police center.
Al-Jorani was at work, but the heavily armed attackers killed his wife, two brothers and 11 guards and kidnapped three of his grown children, the police said, in a grisly example of the dangers facing Iraqi forces as they try to take over the country's security so American forces can leave.
The provincial police officials, who also declined to be identified for fear they could be next, said the attackers arrived in ''many cars'' and abducted two sons and a daughter of al-Jorani, head of central Baqouba's Balda police station. Iraqi police are frequent targets of al-Qaeida-linked insurgents bent on ending cooperation between government security forces and U.S. troops in Baghdad and surrounding areas.