It's back to jail for sobbing Paris Hilton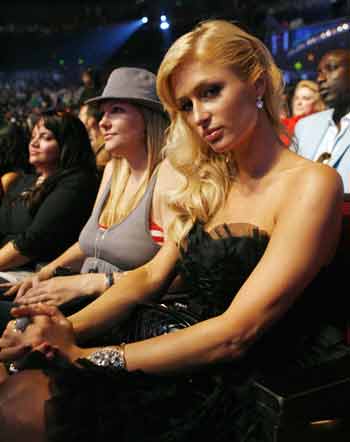 Paris Hilton sits in the audience during the MTV Movie Awards in Los Angeles, Sunday, June 3, 2007. Hilton left the jail early Thursday morning, only to be sent back to jail amidst a public outcry. AP
LOS ANGELES, June 8, 2007 (AFP) - A sobbing Paris Hilton was sent back to jail Friday a day after her early release under house arrest triggered outrage that one of Hollywood's rich and famous was getting special treatment. Hilton, who had spent little more than 72 hours behind bars, cried and wailed "Mom, Mom, Mom" as Superior Court Judge Michael Sauer ordered her back to prison to serve out her 45-day sentence for driving on a suspended license.
"The order is final and forthwith," the judge said, according to local media. Hilton's stunned parents were watching the proceedings, and her mother, Kathy, began crying and hugging her husband, Rick, wailing, "Oh my God!" as the judge gave his ruling.
Earlier when the 26-year-old heiress to the Hilton hotel fortune failed to show up in court on time, having been reportedly asked to appear by telephone, police turned up at her home in the Hollywood foothills to fetch her. She was seen tearfully hugging her mother, before being handcuffed and put in the back of a police car.
Shots taken from helicopters buzzing overhead showed her sobbing uncontrollably as the police convoy, speeding through the crush of waiting media, took her back to court where the judge ruled she must go back to prison. The pictures of a distraught Hilton were very different from the shots of her strutting her stuff in designer clothes at red-carpet soirees.
Hilton, the multi-millionaire hotels heiress and star of the TV reality show "The Simple Life," had been sent home early Thursday after entering prison late Sunday following a red-carpet MTV music awards ceremony. The Los Angeles County Sheriff's Department, citing unspecified "medical reasons," released her under house arrest with an electronic monitoring bracelet on her ankle.
But her release stunned prosecutors, who quickly filed a motion seeking to haul Hilton back behind bars to complete her sentence for violating probation by driving on a suspended license. At the hearing, the judge expressed irritation at the sheriff's department, saying he had never received promised documents that were supposed to explain why Hilton was released.
"I never received medical documents. The sheriff's office still has done nothing," Sauer was quoted as saying by the Los Angeles Times.
City authorities had been bombarded by a barrage of angry phone calls, emails and faxes from people protesting the preferential treatment being handed out to Hilton.
"This decision sends the message that no individual -- no matter how wealthy or powerful -- is above the law. Today justice was served," City Attorney Rocky Delgadillo said in a statement after Friday's decision. The saga surrounding Hilton has sparked a media frenzy around one of the world's most photographed women, who is a A-list guest on the Hollywood party circuit.
She is mainly well-known for being rich and famous, and shot to international fame thanks largely to a sex tape which appeared on the Internet, and he role in "The Simple Life."She has also released a music album and appeared in films such as "House of Wax," "Pledge This," and the forthcoming "The Hottie and the Nottie."Earlier in an interview with the Los Angeles Times, Sheriff Lee Baca had defended his department's decision to release Hilton on Thursday.
"My message to those who don't like celebrities is that punishing celebrities more than the average American is not justice," Baca was quoted as saying. "The problem here is that there is a medical issue and it isn't wise to keep a person in jail with her problem over an extended period of time and let the problem get worse," Baca said, refusing to describe the medical problem.
But Delgadillo said that Los Angeles jails were well-equipped to deal with the medical needs of inmates and the decision to release her was "puzzling.""If law enforcement officials are to enjoy the respect of those we are charged with protecting, we cannot tolerate a two-tiered jail system where the rich and powerful receive special treatment," Delgadillo said.