CWC ended in comedy and farce
The 9th edition of crickets showpiece, the 2007 World Cup in the Caribbean, which kicked off with a tragedy of immense proportions ended in comedy and farce. Many highly acclaimed former test players said before the start that it was two long and that the presence of too many minnows took the gloss off the most prestigious cricketing event.
The aspect of longevity has been admitted by the powers that be and the promise of suitable amends being made come 2011 held out. Wisdom certainly dawns late, even among those a bit long in the toothy. The minnow factor admits of some argument. Ireland ousted Pakistan by 3 wickets and this led to some earth-shattering consequences. The Irish went on to produce some fighting cricket, except against the big two. Their presence at the event could thus be justified.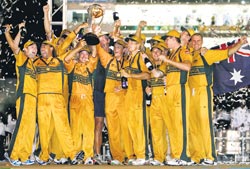 Australians celebrating their World Cup victory
Bangladesh, a minnow among test nations, produced sizzling performances to oust India and, later, South Africa in the Super Eights. But Sri Lanka and Australia put the pretenders in their place, whipping them by 198 runs and 10 wickets respectively. Countries such as Canada, Bermuda, Scotland and the Netherlands provided mediocre opposition and, at times, amusement.
The happy aspect of the tournament was that the two best teams by a country mile contested the final. The Aussies went on to make it three- in- a - row and in the process notched up their 29th consecutive World Cup win. The Cricket dished out by an entertaining, even brilliant Sri Lankan side captured the imagination of one and all, not least for the variety in attack and the flamboyance in batting that they displayed. However on the day that mattered, the Gilchrist inspired Aussies proved their mastery.
AUSTRALIA: Well led by Ponting, the Aussies had enough fire-power in both departments to send their opponents scurrying for cover. Hayden, Ponting, Gilchrist and Clarke provided the runs. Symons, batting skills were seldom called upon and Husky hardly got a look in.
Braken and the ageless McGrath showed the way with the ball, while Tait made tremendous advances during the seven weeks. Hogg, competitive as ever, got the wickets that mattered.
SRI LANKA: Expected to do well as they seemed to have the men for the job. Their progression to the finals surprised nobody. Jayawardene led the team superbly and put behind him the nightmares of WC 2003 Jayasuriya dazzled most times, Sangakkara under, achieved save for two fine fifties and Tharanga came good when it mattered. Chamara Silva was a definite find while Dilshan put in his share. Malinga took the breath away with his pace and new found accuracy, Vass was his usual steady self and Muralitharan psyched out the batters to emerge Sri Lankas leading wicket taker.
Two little points though, Surely Marvan Atapattu could have been given a game. That was no way to treat Mahela's predecessor. All that business about resting players and tactical omissions tried out to be plain silly. A greater statement could have been made if a full side had matched up to, or even beaten two Aussies in the Super Eights.
NEW ZEALAND: Perennial semi finalists. When the ultimate test came along, they were found out. Vaas' bunny, Fleming, failed to deliver when it mattered. Styris was the exception, churning out some significant innings. Fulton was patchy, Taylor, who can bat beautifully, was a flop. Bond faltered in the Semi final, while Vettori never seems to worry the Sri Lankans - Franklin and Dram did their best but it wasn't good enough.
One final thought. Would it have made a difference if Mcallum had opened in the semi final and Fleming had come lower in the order? But that would have meant admitting that Vaas had Fleming's number!
SOUTH AFRICA: They will continue to wear the chokers tag. Undone in 1992 by a silly rule, they choked in 1999 and self-destructed in 2003, Smith had mixed fortunes, Kallis stood out like a beacon and Gibbs strove for consistency – not only in letting sixes ! Boucher and Pollock didn't turn up trumps with the bat. The pace attack was impressive at times, though Natini had a poor tournament. A quality spinner could have made a difference.
WEST INDIES: A total flop that brought intense sadness to West Indians and those who like the West Indian brand of cricket Their bowling was ordinary, though Powell tried hard. The fielding against Sri Lank was abysmal. Sarwan and Chandrapaul stood out among the batters. Weighed down by impending retirement and criticism, Lara never produced the brilliance that is his trade-mark. To quote T.S. Eliot "This is the way the world ends, not with a bang, but with a whimper."
ENGLAND: Oh England! They don't take One Day Cricket seriously and in consequence, their cricket isn't taken seriously by others. Ran the Sri Lankans very close but achieved little else of note. Peterson was their best player by a mile. Collingwood was consistently good. Vaughan's One Day credentials are questionable and the "Great White hope" Flintoff was indiscipline.